Lebanon car bombing kills Palestinian Fatah official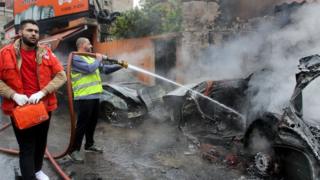 A local Palestinian official has been killed in a car bomb explosion near the south Lebanese port city of Sidon, Lebanese security officials say.
Fathi Zeidan, nicknamed "Zorro", was the Fatah movement's security chief in the Mieh Mieh Palestinian refugee camp.
There was no immediate claim of responsibility for the blast, which occurred in nearby Ein el-Hilweh camp.
However, Fatah gunmen have recently been involved in clashes with rival factions in Ein el-Hillweh.
One man was killed earlier this month when one dispute escalated.
Lebanese security officials say the bomb that killed Mr Zeidan was placed inside his car and he would have died instantly.
About 450,000 Palestinians are registered with the UN as refugees in Lebanon, and most live in 12 official camps that mainly fall outside the jurisdiction of the Lebanese security services.