Israel arrests six members of 'Jewish terror cell'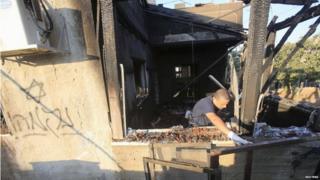 Israel's security agency says it has arrested six West Bank settlers who were members of a "Jewish terror cell".
The settlers carried out violence against Palestinians last year including an assault and an attempt to set fire to a home, Shin Bet said.
They are due to be charged in the coming days.
The group, which included a soldier and two minors, allegedly tried to copy an arson attack that killed three members of a Palestinian family.
The suspects told interrogators they were aware their actions could have led to the loss of life and had been "inspired" by the deadly attack in the West Bank village of Duma, which killed a Palestinian couple and their toddler.
The group also attacked a farmer with rods and tear gas, leaving him injured, Shin Bet said.
The suspects were connected to members of another ring of Jewish extremists who had recently been apprehended and accused of a series of attacks on Palestinian and Christian targets, according to the security agency.
A rights group representing the suspects said their access to lawyers had been limited to pressure them into making confessions.
An Israeli man was charged in January with three counts of murder over the Duma arson case, which was condemned by Palestinian and Israeli leaders.
About 500,000 Jews live in more than 100 settlements built since Israel's 1967 occupation of the West Bank and East Jerusalem. The settlements are considered illegal under international law, though Israel disputes this.