Egypt journalists protest against arrests in 'raid' on union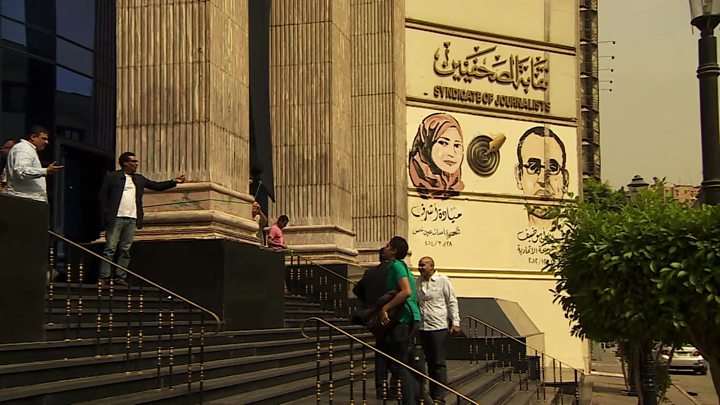 Egypt's journalists' union has demanded the dismissal of the interior minister after two journalists were arrested at its headquarters in Cairo overnight.
The union also called for a sit-in to protest against the security forces' "blatant barbarism and aggression on the dignity of the press".
The interior ministry has denied the union was raided, but confirmed the arrests of the journalists.
Amr Badr and Mahmoud al-Sakka are accused of inciting protests.
The two men work for the website Bawabet Yanayer (January Gate), which is critical of President Abdul Fattah al-Sisi's government.
'Unprecedented move'
In a statement issued on Monday morning, the journalists' union condemned what it called a "raid by security forces whose blatant barbarism and aggression on the dignity of the press and journalists and their syndicate has surprised the journalistic community and the Egyptian people".
It called for an "open-ended" sit-in outside the union's headquarters running at least until a general assembly meeting on Wednesday.
Dozens of people gathered on the steps of the building, chanting "journalists are not terrorists", the Associated Press reported.
Members of the union said dozens of police officers had been involved in Sunday night's operation to arrest Mr Badr and Mr Sakka, and that a security guard had been injured in the eye.
The opposition Egyptian Social Democratic Party denounced what it called "the storming of the press syndicate", which it said was "an unprecedented move".
But the interior ministry insisted that it had not been a raid, that only eight officers had been involved, and that there they had not used any force.
Later on Monday, the official Mena news agency quoted state prosecutors as saying the two journalists and seven others working for Bawabet Yanayer were being investigated on suspicion of "using fake news" to incite protesters to "clash with police forces and storm public and vital establishments" last Monday.
The union's headquarters were sealed off by police that day after being named as a rallying point for protests against President Sisi's decision to hand back control to Saudi Arabia of two islands in the Red Sea - a move critics have condemned as unconstitutional and lacking in transparency.
A similar protest outside the building on 15 April drew some 2,000 people.
Mr Sisi, who has suppressed all dissent since leading the military's overthrow of democratically elected President Mohammed Morsi following mass protests in 2013, said "evil" forces were conspiring to destabilise the state.
Dozens of foreign and Egyptian journalists were also briefly detained or arrested while covering last week's protests, according to Reporters Without Borders, which ranked Egypt 159th out of 180 countries in its 2016 World Press Freedom Index.