Saudi government lifts ban on troubled Binladin Group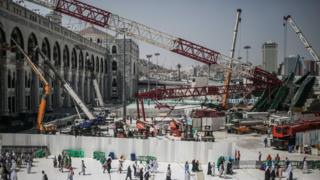 Saudi Arabia is to once again allow construction giant Saudi Binladin Group bid for state contracts, days after it laid off tens of thousands of workers.
The firm was penalised after one of its cranes collapsed at the Grand Mosque in Mecca in September, killing 107 people.
A travel ban that was imposed on its top managers has also been lifted.
SBG, which was founded by the father of late al-Qaeda leader Osama bin Laden, has also been affected by an economic slowdown resulting from low oil prices.
On Saturday, staff set fire to several company buses in Mecca during the latest protest at the layoffs and not being paid their salaries for up to six months.
'Routine' adjustments
A senior SBG executive told the Reuters news agency on Thursday that the company had been granted permission to submit tenders for government construction projects in a royal decree.
He was confirming a report in the Saudi newspaper al-Watan, which also cited a civil aviation authority official as saying that several projects involving SBG, the King Abdulaziz International Airport in Jeddah, would be able to resume.
BBC Arab affairs analyst Sebastian Usher says this is the first good news in months for the company that built much of modern Saudi Arabia.
On Monday, the Saudi newspaper al-Watan reported that SBG had dismissed 77,000 foreign workers and issued exit visas for them to leave the country.
The company also planned to lay off 12,000 of the 17,000 Saudis who work for it in supervisory, administrative, engineering and management jobs, it said.
SBG, which last year said it employed 200,000 people, said the job cuts were "routine" adjustments amid a slowdown in the construction industry.
"Most of the released jobs had initially been recruited for contracted projects with specific time frame and deliverables," Bloomberg quoted a statement as saying.
The company also denied that it had dismissed workers without pay.
On Tuesday, Labour Minister Mufrej al-Haqbani said some SBG workers would receive their unpaid salaries this month, while others would get the money later.
He did not say how SBG would obtain the money. Citing commercial bankers in the Gulf, Reuters reported that SBG was believed to owe banks about $30bn (£21bn).