Egypt satirical group 'arrested over insulting video'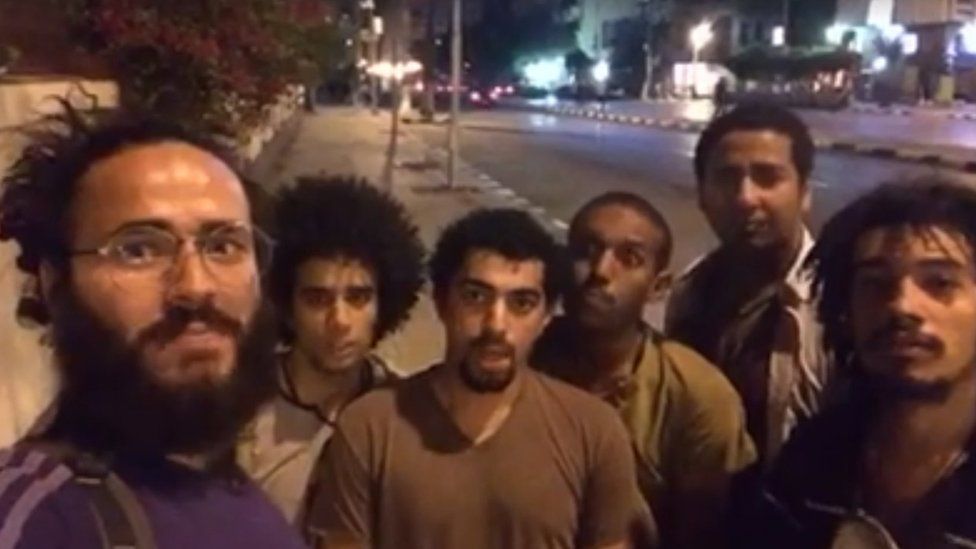 Five members of an Egyptian group whose satirical videos have mocked President Abdul Fattah al-Sisi have been arrested, their lawyer says.
Four of the six men in Atfal al-Shawarea (Street Children) were held on Monday on suspicion of insulting state institutions and inciting protests.
The fifth was detained on Saturday on similar charges.
Last week, they posted a video online that criticised the crackdown on anti-Sisi demonstrations and journalists.
More than 1,200 people were detained in April after people took to the streets to protest against the president's controversial decision to hand over control of two Red Sea islands to Saudi Arabia.
At least 577 people are reportedly facing charges including violating a law banning unauthorised public gatherings of more than 10 people.
The government has also been condemned by the journalists' union for sending police into its headquarters this month to arrest two journalists from a website critical of the president. Prosecutors have accused the two journalists of inciting the protests.
The 19-year-old was arrested at his home in Cairo on Saturday and accused of inciting protests and publishing a video that insulted state institutions.
On Monday, a court ordered Mr Khaled's release on bail, but prosecutors appealed against the decision. A ruling on the appeal was expected on Tuesday.
Four other members of the group - Mohammed Adel, Mohammed Yehia, Mohammed Gabr and Mohammed Desouki - were arrested late on Monday.
The sixth member of the group, Mohammed Zein, has so far not been detained.
It was not clear which of the group's videos prosecutors had deemed insulting.
In one recent selfie-style clip filmed on a street, the men pretend to interrogate each other.
"What do you have to say about the charges against you?" one of them asks.
"I'm not [Muslim] Brotherhood! I'm a womaniser," another responds, referring to the banned Islamist movement of former President Mohammed Morsi, whose overthrow in 2013 was led by Mr Sisi, then the military's commander-in-chief.
The clip also sees the group sing about the devaluation of the Egyptian pound and the decision over the islands - which critics have condemned as unconstitutional and lacking transparency.
Another recent video is entitled Sisi, My President, Made Things Worse