Yemen conflict: Warring parties 'agree prisoner swap'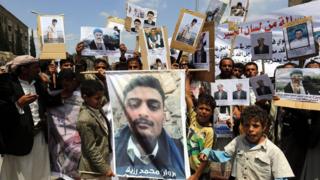 The warring parties in Yemen are reported to have agreed to carry out a major prisoner swap within 20 days.
The deal between the government and the Houthi rebel movement is being seen as a breakthrough in weeks of peace talks that have achieved little until now.
Sources from both sides at the talks in Kuwait told the AFP news agency that they would each hand over half of the prisoners they were holding.
The rebel source said that hundreds of detainees would be involved.
More than 6,200 people have been killed and 2.5 million others displaced since the conflict escalated in March 2015, when a Saudi-led multinational coalition launched a military campaign to defeat the rebels and allied security forces loyal to former President Ali Abdullah Saleh and drive them from the capital, Sanaa.
The fighting has also pushed the Arab world's poorest country to the brink of famine and left 82% of the population in need of humanitarian assistance.
A ceasefire has been in place since last month to give the peace talks a chance, but both sides have regularly accused each other of violations.
---
More on this story
A year that has set Yemen back decades
No end in sight to war in Yemen
Practising medicine under fire in Yemen
A young girl and a city struggling for life
---
The prisoner swap deal was reportedly agreed during a meeting in Kuwait of the joint working group on prisoners and detainees formed by UN envoy Ismail Ould Cheikh Ahmed.
"It was agreed during the meeting to release 50% of the prisoners and detainees within the next 20 days," Mane al-Matari, media adviser to Yemen's foreign minister, told AFP.
The working group would meet again on Wednesday to finalise the mechanism on how and when the exchange would take place, he added.
Mr Matari estimated the number of prisoners in the thousands, but the rebel source said there might be only hundreds of prisoners involved, AFP reported.
The UN envoy praised the delegations' co-operation on Monday evening, after the face-to-face talks resumed following a two-day interruption.
"We are at a true crossroads. We are either moving towards peace or going back to square one," Mr Ahmed wrote on Twitter.
"What I heard from both delegations is promising, but we shouldn't forget that the challenges are enormous and the gap between them is large."