Yemen conflict: Suicide attacks hit government forces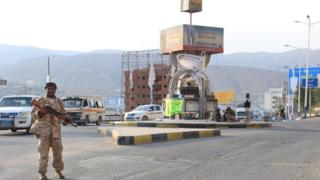 At least 10 soldiers have been killed in three attacks on army bases in the southern Yemen city of Mukalla, military sources say.
The so-called Islamic State (IS) said it was behind at least one of the attacks, a suicide car bombing.
Mukalla was held by al-Qaeda militants up until a month ago, when it was recaptured by pro-government forces.
The attacks came hours before Yemen PM Ahmed Obeid bin Dagher was due to arrive in Mukalla for a visit.
---
More on this story
A year that has set Yemen back decades
Practising medicine under fire in Yemen
A young girl and a city struggling for life
Profile: Al-Qaeda in the Arabian Peninsula
---
Officials said a suicide bomber rammed a vehicle packed with explosives into the gate of a naval base in the Mukalla's outskirts.
Two other explosions were reported to have hit the military headquarters in the city.
The blasts were followed by fierce clashes between militants and government forces, officials said.
IS in Yemen, in a statement posted online, said one of its militants carried out the attack on the naval base.
IS has not previously staged attacks in the city, which had for nearly a year been under the control of al-Qaeda in the Arabian Peninsula (AQAP).
The Saudi-led coalition and Yemeni troops last month launched an operation to clear AQAP militants from Mukalla, provincial capital of Hadramout, and surrounding towns.
The Pentagon revealed last week that "very small number" of US military personnel had also been deployed around Mukalla in support of the operation to retake the city.
The Saudi-led coalition has been fighting Houthi rebels and their allies for over a year, after the rebels forced Yemen's government to flee into exile.
Peace talks have been taking place in Kuwait but have so far yielded few results.