Syria conflict: Air strikes and missiles hit Aleppo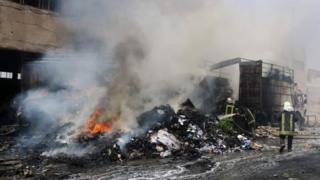 Syrian government war planes have launched dozens of air strikes on rebel-held areas in and around Aleppo, activists say.
The UK-based Syrian Observatory for Human Rights said the government also used helicopters to drop barrel bombs on Syria's second city.
Rescue workers were quoted as saying at least 20 bodies had been pulled from the rubble in several locations.
Syrian state media said government-held areas were hit by rebel missiles.
They reported several casualties and scores of injured people. They also said at least 24 people had been killed in similar attacks on Saturday.
Aleppo has been divided for years between rebel groups and government forces.
The northern city has borne the brunt of deadly bombardments despite a ceasefire that was agreed in February.
What is left after five years of war?