Falluja: Iraqi Shia militia 'killed and seized civilians'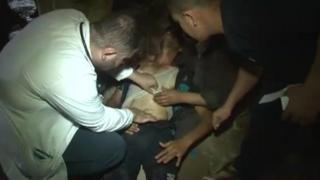 Shia militants who fought alongside the Iraqi army in Falluja may have seized some 900 civilian men and boys and killed nearly 50, the UN has said.
UN human rights chief Zeid Ra'ad al-Hussein said the civilians were held last month during the battle to oust Islamic State from the Sunni city.
Shia militants from Kataaib Hezbollah reportedly tortured many detainees.
Mr al-Hussein also warned Iraq could see a return to full scale sectarian violence after Sunday's Baghdad attack.
The number of people killed in a suicide bomb blast in the Iraqi capital has now risen to 165, officials say.
IS has said it had carried out the attack.
Falluja detainees 'tortured by Shia militias'
Falluja: Embattled city of mosques
Detainees 'beheaded'
In a statement on Tuesday, Mr al-Hussein said the fate of nearly 900 civilians from the village of Saqlawiya, near Falluja, was still unknown.
"There is a list of the names of 643 missing men and boys, as well as of 49 others believed to have been summarily executed or tortured to death while in the initial custody of Kataaib Hezbollah," he said.
"Tribal leaders believe there are around 200 more unaccounted for, whose names have not yet been collected."
In all, some 1,500 men and boys over the age of 14 were captured on 1 June by Kataaib Hezbollah militia, Mr al-Hussein said, quoting witnesses.
He said they were later separated into two groups, with the smaller group of about 605 people later being transferred in a government-run clearance centre near Falluja.
He also said the UN had received reports of severe maltreatment, including denial of food and water, beating, torture, and even the beheading of some detainees.
Falluja, about 50km (30 miles) west of Baghdad, was recaptured from IS in late June.
UN officials have warned for some time against revenge attacks by Iraq's largely Shia army or militias which support it, stressing that Sunni civilians in Falluja or Mosul have also suffered serious violence at the hands of IS.
Revenge attacks, together with the appalling bomb attacks in Baghdad could, the UN fears, push Iraq back into an all-out sectarian war, the BBC's Imogen Foulkes in Geneva says.