Syria conflict: Rebels 'filmed beheading boy' in Aleppo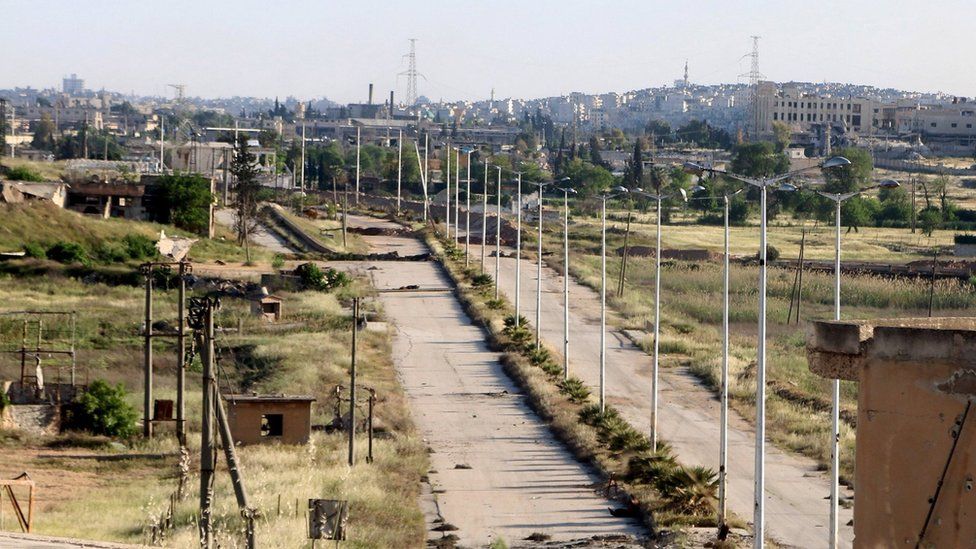 Videos have emerged online that appear to show Syrian rebels taunting and then beheading a boy they say is a captured Palestinian pro-government fighter.
One video shows five men posing with the frightened child, who could be as young as 10, in the back of a truck. One of the men grips him by the hair.
The same man is later filmed apparently cutting the boy's head off.
The incident is reported to have taken place in Handarat, north of Aleppo, where there has been heavy fighting.
The area is the location of the unofficial Palestinian refugee camp of Ein El Tal, which was home to some 7,000 people before they were displaced by armed groups in 2013.
Pro-government forces have been attempting to capture Handarat in recent weeks, as part of an offensive that has seen the last remaining road out of rebel-held eastern half of Aleppo cut, trapping an estimated 300,000 people living there.
The footage of the boy, who some on social media identified as "Abdullah Issa", first appeared online on Tuesday morning.
The men in the first video say he is a fighter from Liwa al-Quds (the Jerusalem Brigade), a Palestinian pro-government militia operating in the Aleppo area.
Enab Baladi, a pro-opposition news website, said the boy was captured in Handarat by members of a local rebel group, the Nour al-Din al-Zinki Movement.
It quoted Yasser Ibrahim Youssef, a member of the group's political bureau, as saying on Facebook that an independent judicial commission had been appointed to investigate the incident. Anyone proven to have been involved in any violations would be referred to military justice, he added.
A legal adviser for the Western-backed Free Syrian Army was also cited by Enab Baladi as saying it would hold to account those responsible for such a violation.
The Syrian Observatory for Human Rights, a UK-based monitoring group, also said that there had been violent clashes between pro-government forces and rebels in the vicinity of Handarat on Tuesday, and that it had received a copy of a video showing fighters killing a boy they had captured.
A report published by the human rights group Amnesty International earlier this month detailed a series of violations allegedly committed by Nour al-Din al-Zinki Movement fighters, including abductions and torture.
The group is reported to have benefited from financial and military support from the US, UK, France, Turkey, Qatar and other Gulf Arab states in the past.