Syria conflict: Aleppo hit by clashes despite Russia aid pledge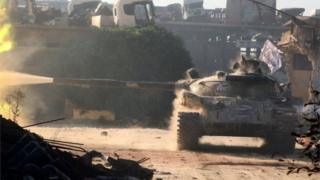 Clashes have been reported in and around the northern Syrian city of Aleppo despite promises by Russia to halt military action to allow in aid.
Russian forces had announced a daily three-hour suspension of military action.
However UN officials said that was too short to take in enough to help the large numbers of people in need.
Aleppo has seen intense fighting recently between rebels and Russian-backed Syrian government forces.
There are also reports of a toxic gas attack on a rebel-held area. Four people died and many others were injured, medical staff say.
The gas was thought to have been chlorine dropped in a barrel bomb, said the Syrian Civil Defence - volunteer emergency response workers.
Elsewhere, Russian planes attacked targets in the northern city of Raqqa, a stronghold of so-called Islamic State.
The city's water supply had been cut off as a result, the group's media arm, Amaq, said. The report was confirmed by an anti-IS group.
At least 30 people were killed and 70 wounded in the raids, a UK-based monitoring group said.
The long-range bombers destroyed a chemical weapons factory and a training camp for IS fighters, killing a "large number" of them, Russia's defence ministry said.
A witness in Aleppo told the BBC there had not been any ceasefire on Thursday, contrary to what the Russians had said.
Local activist groups reported raids by government warplanes on Hreitan, on the northern outskirts of Aleppo.
In the south-west, the fighting involved government forces and their allies against rebels in the Hamdania and Ramouseh districts. Planes and helicopters took part.
The rebel operations room in Aleppo tweeted that it had "thwarted an attempt by Assad's gangs" to advance, killing and injuring pro-government fighters.
Russia had announced a halt to hostilities between 10:00 (07:00 GMT) and 13:00 from Thursday.
But UN Emergency Relief Co-ordinator Stephen O'Brien said while that would be taken seriously, a 48-hour break was needed to get enough aid in on trucks.
"We have supplies ready to roll - food rations, hospital supplies, ambulances, fuel for generators, water supplies and more.
"We will continue to use all available routes and mechanisms to do this, including cross-line and cross-border operations from Turkey. We can deliver these within 24-48 hours - if we have safe access."
A representative of the International Committee of the Red Cross in Damascus, Ingy Sedky, said any initiative alleviating civilian suffering would have a positive impact.
"However... as long as there is no consent between all the parties on the ground on the ceasefire I'm afraid this will not allow us to do our job and to deliver safely the humanitarian aid and might put the civilians at risk," she told the BBC.
Fighting has escalated in Aleppo in recent days, with rebels severing the government's main route to the west of the city.
The offensive sought to break a siege by pro-government forces, who encircled the east in July with the support of Russian aircraft.
Earlier some of the last doctors in the rebel-held east of the city appealed to US President Barack Obama to come to the aid of the 250,000 civilians there.
They said that in the past month there had been 42 attacks on medical facilities in Syria, 15 of them on hospitals where they work.
On Monday, the UN said countless civilians had been killed or injured in Aleppo in recent weeks and hospitals and clinics had continued to be targeted.
Moreover, attacks on civilian infrastructure had left more than two million people without electricity or access to the public water network for several days, it added.