Iraq hangs 36 men for Camp Speicher massacre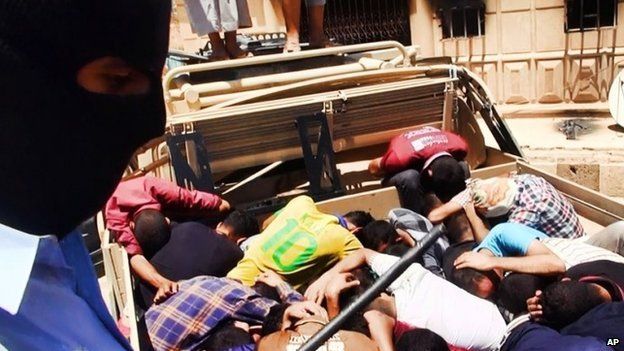 Iraq has hanged 36 men convicted over the massacre of hundreds of soldiers near the city of Tikrit in June 2014.
Most of the victims are believed to have been young Shia recruits who were based at Camp Speicher when Tikrit was overrun by Islamic State militants.
It is estimated that up to 1,700 people died in one of the worst atrocities committed in Iraq in recent times.
Photos and videos published by IS at the time showed soldiers being lined up and shot at various locations.
Some bodies were pushed into the River Tigris, while others were buried in mass graves that were found after government forces recaptured the city a year later.
"The executions of 36 convicted over the Speicher crime were carried out this morning in Nasiriyah prison," a spokesman for the governor's office in Dhiqar province told Agence France-Presse news agency.
Some 400 of the army recruits who were killed were from Dhiqar province.
The spokesman said that Justice Minister Haidar al-Zamili was present at the executions.
After a suicide truck bomb attack in Baghdad killed more than 300 people last month, Prime Minister Haider al-Abadi had said that he wanted to speed up executions of those convicted of terrorism.
Those executed on Sunday, all believed to be Iraqi citizens, had been sentenced to death in February.
Some of the defendants said they had not been near Tikrit at the time of the massacre, while others said they had been denied access to lawyers, or had been forced to confess under torture.