Iraq asks Saudi Arabia to remove ambassador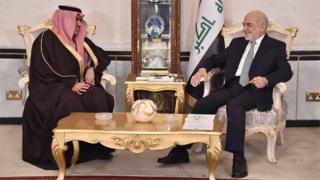 Iraq has called on Saudi Arabia to replace its ambassador to Baghdad over comments he made about Iran's involvement in Iraq.
Shia Muslim politicians have been calling for Thamer al-Sabhan to be withdrawn. He has said Iranian-backed Shia militia are aggravating tensions with Sunni Muslims in Iraq.
He also allegedly accused the militia of trying to assassinate him.
Saudi Arabia and Iraq are longstanding regional rivals.
The Saudi embassy in Baghdad only reopened in December after being closed since the Iraqi invasion of Kuwait more than 25 years ago.
Iraq's Shia community was angered by Saudi Arabia's execution in January of dissident Shia cleric Sheikh Nimr al-Nimr.