'Most people here die in silence': Inside the fight to save Yemen's health system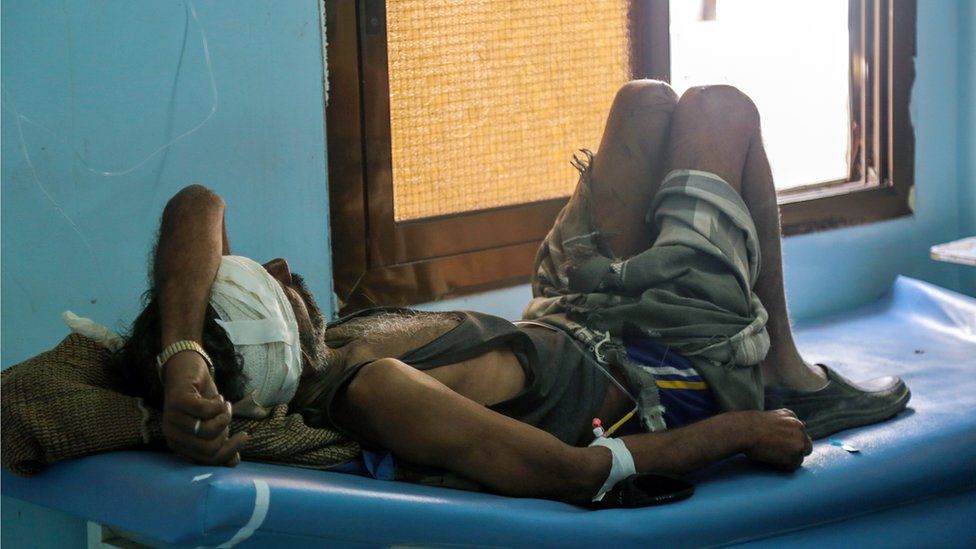 Abdullah Rashid's kidneys are failing him. At 31, six years after he first fell ill, he needs twice-weekly dialysis and a daily cocktail of drugs to stay alive.
Abdullah lives in Saada, northern Yemen, a city ravaged by the worst of the country's civil war. His career in the police is finished and he supports a wife and two young children with meagre disability benefits.
Most weeks, he can barely afford medication and food for his family. Some weeks, he has to choose between the two. When he skips his medication, he knows he has vomiting, chest pains and breathing problems to look forward to.
On Wednesdays and Sundays, Abdullah goes for treatment to the Al-Jumhori health centre - an under-staffed, over-worked local hospital where demand for dialysis is so high that the dialysis never stops. Patients come and go around the clock.
Abdullah's slot starts at eight, two hours after nightfall. With planes circling overhead, searching for moving targets, it is usually too dangerous to go by car and he is forced to walk. "I can't see anything in the dark," he said by phone from the hospital, during a recent dialysis session. "I am afraid of everything. I am afraid the planes are going to hit me. I am afraid I will have to run. I am afraid even of stray dogs."
The walk should take an hour but Abdullah is weak. "I walk a few steps and then I have to rest," he said. "Like that, you walk a bit and rest a bit, and you carry on until you arrive." Some patients arrive "barely alive", said Dr Mohammad Hajar, the head of operations at the Al-Jumhori. Or they don't arrive at all. They miss one appointment, two appointments, and eventually the staff makes a grim assumption.
"All we know is that we had a patient and we treated him on a regular basis and then he no longer comes to the hospital," said Dr Hajar. "Either he moved or he died."
When Abdullah's session finishes, close to midnight, he hopes another patient will give him a lift home. If no-one can, he walks.
This is the new reality of Yemen's health system, or what is left of it. After two years of war, thousands of people are dying from easily treatable conditions as the system collapses around them. Drugs are disappearing from the market or skyrocketing in price. Mental health care is virtually non-existent. Vital hospital equipment is stuck at ports while medical convoys, ambulances, and entire hospitals are destroyed from the sky.
A military air coalition led by Saudi Arabia - and supplied with weapons by the US and UK - has relentlessly bombed the country in a campaign against the Houthi rebel movement, whose own shelling and ground offensives have killed civilians. More than 10,000 people have died, according to the UN - 140 in one fell swoop last week, when an air strike hit a gathering at a funeral hall. Saada governorate - home of the Al-Jumhori - and neighbouring Hajjah are among the worst-affected areas.
In August, 19 people died when a Medecins Sans Frontieres (MSF) hospital in Hajjah was destroyed by an air strike - the latest in a long list of strikes against MSF facilities. For the charity, it was enough. It withdrew all of its international staff from both provinces and instructed its local employees not to work. In 24 hours the Al-Jumhori lost 189 people - nearly half its staff.
It was an "extremely painful" decision, said Hassan Boucenine, MSF's head of mission in Yemen, "but we couldn't let our staff be killed one after another, something had to be done." For the people of Yemen, it was another blow to an already disintegrating system. The UN estimates that 600 health facilities - more than a fifth of the total - have been put out of action by the fighting, leaving 14 million people with no access to adequate healthcare.
"Most people here die in silence," said Mr Boucenine. "They can't get basic treatment. And this is not only about Saada, or Hajjah. In Aden and elsewhere it is the same. The state of Yemen is broken."
At the Al-Jumhori, the local staff is pressing on with the job of treating up to 600 patients a day amid worsening shortages. The hospital has no mental health specialists or psychiatric drugs. The dialysis units that keep Abdullah and 103 other kidney patients alive have officially expired and the dialysis solution is running out. Dr Hajar has ordered 14 new units but they are stuck in Germany, prevented by a Saudi blockade from entering the country.
In the maternity department, the last remaining obstetrics and gynaecology specialist is gone, leaving a dedicated but under-qualified team of midwives to treat women and deliver children. The pregnant women who make it safely to hospital are the lucky ones, said Mona, a midwife at the hospital who lives nearby, who did not want her full name published. "Some days the planes hit everything that moves," she said.
Mona described a woman who died, along with her baby, on the operating table on a baking hot day in June, days after she needed an emergency Caesarean. She described a woman who bled to death in the back of a car as she tried to give birth on the way to the hospital. And a woman who arrived with two thirds of her body burned and died, with her baby, eight days after her home was hit by a strike.
"This is not some kind of rare tragedy, this happens every day," said Mr Boucenine. "A pregnant woman is in need of a Caesarean but she will leave her house only when it is the last resort, because of the strikes. She will try two hospitals and find them closed or with no surgeon for the C-section. She may finally make it to a third, but either she will die, or the child, or both."
According to Unicef, nearly 600,000 pregnant women are living in areas where healthcare provisions are limited or non-existent. So many pregnant women are unable to reach a health centre that the charity no longer records figures for infant mortality.
Likewise, there are no reliable records of the number of miscarriages. At the Al-Jumhori there were on average two a week before the war, said Hana Musleh, the head of the maternity department, and now it is more like two or three a day.
Poor diets and lack of medical care are known to increase the risk of miscarriage in war zones. And then there is the fear, said Hana, constant fear. One day last August, three months into her own pregnancy, Hana miscarried when an air strike destroyed the building opposite her house and jolted her down the stairs.
For the babies that survive, and the young children of Yemen, the future is uncertain, if not bleak. Unicef estimates that 10,000 extra children will die this year alone, on top of those killed directly by the conflict, because they cannot get treatment for preventable conditions.
The charity's figures are shocking: Seven million children have no access to adequate healthcare; 2.6 million children are at risk of contracting measles; 1.8 million at risk from diarrhoea; 1.5 million are malnourished; at least 370,000 are severely malnourished - starving, in other words.
A tiny fraction of the severely malnourished children have access to treatment - some at the Al-Jumhori's Therapeutic Feeding Centre. Duaa, a baby girl from Saada, was born underweight and her father Wazzan, a farm-worker, could not afford to feed her and her two sisters.
"Before the war I could buy vegetables, I could buy whatever we needed at home," he said. "But then the war started and that was it, there was nothing. I couldn't buy her anything."
Dr Meritxell Relano, Unicef's deputy representative for Yemen, visited the Therapeutic Feeding Centre in August. "I was holding a six-month old girl and I couldn't believe it," she said. "She weighed less than three kilos [6.5lbs]. At six months a child should be eight to ten kilos."
At six months, Duaa weighed less than four kilos and could not move properly. Now, 20 days short of her first birthday, after five visits to the Al-Jumhori, she weighs nearly six. "Praise God she will be alright," said Wazzan. "She has put on some weight and she is getting better. Every bit of food we can buy her, we do."
But there is still a long way to go even for those who find treatment, said Dr Relano: "Even if the children recover and the parents go home, there are no jobs, no income, no way of finding food for their children."
In many respects, Yemen's healthcare crisis is just beginning. The health ministry is approaching the point that it can no longer afford to pay wages or buy supplies, while medical staff and students work dangerously long hours to fill the gaps.
Diseases nearly eradicated before the war, including cholera and malaria, are taking hold again, especially among the more than three million displaced people living in makeshift camps. Thousands will need prosthetic limbs and years of physical rehabilitation.
Mental health is barely an afterthought, leaving the less obvious scars of war untended and untold numbers at risk of post-traumatic stress for years to come. Young children are seeing their families killed in front of them and parents watching their children die. "The best we can do now is try and help them calm down," said Mr Boucenine.
"For these people, who have mental health problems, who need major reconstructive surgery, the situation is very bad," he said. "The world needs to do something now because soon it will be too late. For some people it is already too late. Even if the situation stabilises now, this is a terrible burden that will go on for years."
Meanwhile, the war shows no sign of slowing down. Saudi Arabia remains determined to oust the Houthis, who are entrenched in the capital Sanaa. "I try to be optimistic but we are in a very difficult situation now," said Dr Relano. "If a peace agreement is not signed in the next month, I don't think the health system can be saved."
There are small moments of hope amid the crisis. At the Al-Jumhori's malnutrition centre, Wazzan was getting ready to take Duaa home after her final stay. His youngest daughter has never known peace. "My hope for the future is that the war will end," he said. "That is all we want."
Duaa will return to her mother and sisters and to a diet of boiled potato and rice. Wazzan hopes she will slowly return to a normal weight. "God willing, we will feed her from the harvest," he said.