Mosul battle: Kurds launch 'large-scale' offensive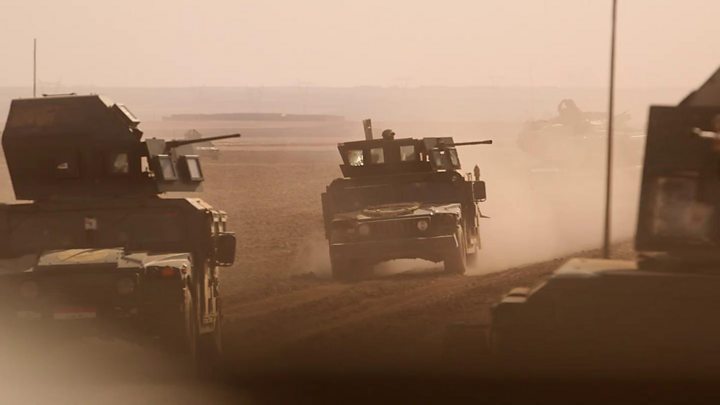 Kurdish fighters say they have launched a large-scale operation east and north of Mosul, as an offensive to oust so-called Islamic State (IS) militants from the Iraqi city continues.
The Kurds say the operation aims to tighten the noose around the militants' last major stronghold in Iraq.
The Iraqi army has been moving from the south, and special forces have now joined the offensive.
There are signs that IS leaders have fled Mosul, the US military says.
There are thought to be up to 5,000 IS fighters still in the city.
The Kurdish fighters said their operation was on three fronts, and followed recent gains by both the Kurds and the Iraqi security forces in the area.
"The objectives are to clear a number of nearby villages and secure control of strategic areas to further restrict Isil's [IS] movements," the statement said.
---
'Victories made in blood' - By Orla Guerin, BBC News, outside Mosul
Under cover of darkness we joined a long convoy of vehicles setting out from a Kurdish base on Bashiq Mountain, about 15km (9 miles) from Mosul.
We snaked towards areas under IS control, along a route that had been checked for roadside bombs. There were hundreds of pick-up trucks with troops and some with vehicle-mounted machine guns. Along the way we saw some American special forces.
The aim is to clear the town of Bashiqa and 20 surrounding villages, most of which are deserted apart from IS. The offensive includes some veteran Kurdish fighters, who previously fought against Saddam Hussein.
Before leaving the base senior commander Shex Jaffar Shex Mustafa told us they were ill equipped for the battle, and did not even have enough body armour. "All of our victories are made by our blood," he said.
The general in charge urged his men to go slowly, to avoid casualties. "We hope to survive this battle," one fighter told me, "but we are facing an enemy that hopes to die."
---
Meanwhile, Iraqi special forces joined the offensive on Thursday with a pre-dawn advance on the nearby town of Bartalla, Iraqi Maj-Gen Maan al-Saadi was quoted as saying by the Associated Press news agency.
They were being supported by air strikes carried out by a US-led coalition.
Earlier, Gen Gary Volesky said: "We've seen movement out of Mosul; we've got indications that leaders have left."
But the American general did not specify who had fled, nor did he say where they had gone.
The whereabouts of IS leader Abu Bakr al-Baghdadi are unknown. Some reports say he is in Mosul, but others say he has fled the northern Iraqi city.
It is possible that any fighters leaving the city had simply been going to man front line areas, which still lie beyond the outskirts, the BBC's Middle East analyst Alan Johnston says.
Nobody has any doubt that a hardcore of IS militants will stay in the city and fight for it, perhaps very fiercely indeed, our correspondent adds.
Gen Volesky, who heads the land component of the US-led coalition fighting IS, said that foreign fighters were likely to form the bulk of the force who would hold out.
The British charity Save the Children says 5,000 people from the conflict area have fled to a refugee camp over the border in Syria in the last 10 days, with another 1,000 waiting at the border.
Camps are being built in the south, east and north of Mosul in preparation for a flood of people fleeing the city. The UN says it expects at least 200,000 in the coming weeks.
Up to 1.5 million civilians are thought to still be in Mosul, with those inside reporting that IS was preventing them from leaving and that they were running out of basic supplies.
Mosul has been in the hands of IS since 2014 and is the militants' last major Iraqi stronghold.
The offensive to retake it began on Monday, with the advancing forces seizing a number of villages on the city's outskirts ahead of a final push into the city.
But progress is expected to be slow, with IS fighters appearing to be putting up stiff resistance in places.
There are warnings the group could use human shields or chemical weapons.
---
Are you in the region around Mosul? Are you from Mosul? Let us know about your experiences. Email haveyoursay@bbc.co.uk with your stories.
Please include a contact number if you are willing to speak to a BBC journalist. You can also contact us in the following ways:
·WhatsApp: +44 7525 900971
·Tweet: @BBC_HaveYourSay
·Send an SMS or MMS to +44 7624 800 100