Mass graves in Iraq reveal Islamic State horrors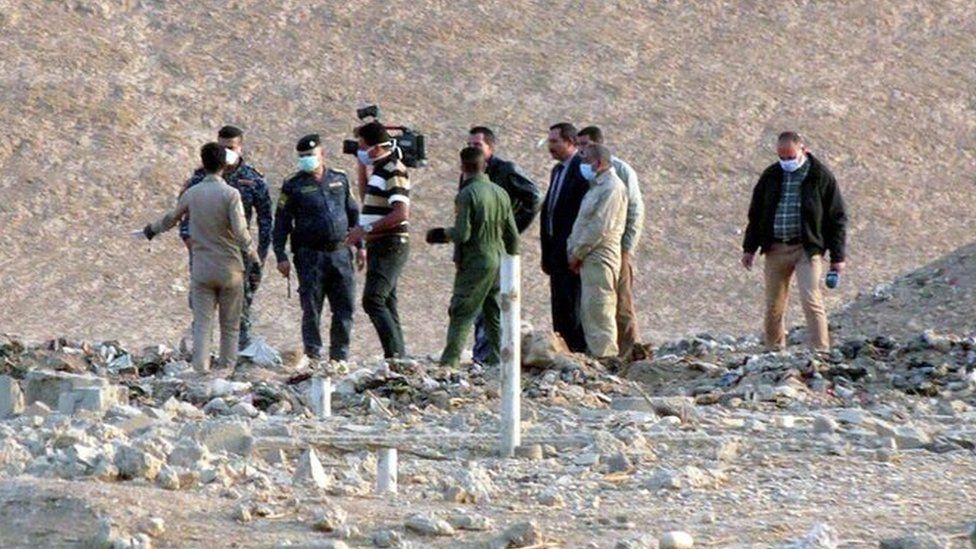 Iraqi forensic experts are investigating a mass grave discovered by troops advancing towards the Islamic State-held city of Mosul.
The Iraqi military said the grave was found in the grounds of an agricultural college in the town of Hamam al-Alil and contained about 100 decapitated bodies.
The pungent smell suggests recent decay. The stories emerging from the village - until recently an Islamic State (IS) group stronghold- suggest the expanse of land in front of us is in fact a mass grave. And this could be just the tip of the iceberg.
Ahmed, a young man in his 20s loitering nearby, reels off a list of names. Hammoud, Hassan, Mohired; then his voice begins to break.
These are the names of his friends who, he tells me, are missing. Many of them are now feared dead. He suspects they could be buried here.
Hamam al-Alil, situated some 15km (9.3 miles )south of Mosul, was once a spa town. It was renowned for its hot springs and became something of a tourist attraction before the arrival of IS in 2014.
Now with the discovery of what are thought to be human remains, it has been tainted with the stench of death.
On a piece of wasteland, on the western edge of the village close to the agricultural college, stands what looks like a waste dump.
But take a look closer between the sheets of plastic and discarded metal and you can just make out what appear to be the brown twisted torsos of corpses lying on the surface.
I counted five or six of them from afar. At least one of them appeared to be decapitated. But with the threat of IEDs where these presumed bodies lay, it was impossible to glean much detail.
If it is confirmed that this is a mass burial site, it could be the first concrete evidence of slaughter carried out by the fleeing jihadis during the course of the Mosul campaign.
UN human rights investigators believe there could be more than 100 corpses lying buried the desert sand, based on police reports of people allegedly tortured, abducted or detained by IS in Hamam al-Alil.
The village was until last weekend an IS stronghold, an important staging post before the southern tip of the city of Mosul.
Federal police commander Colonel Adnan Mustafa said he had "strong local sources and eyewitness reports" which claimed that ''many people have gone missing from this area in recent weeks". The testimonies being gathered by human rights investigators appear to back this up.
A team of forensic pathologists and UN human rights specialists are now trying to piece together what happened here during the final moments of the IS retreat under heavy fire.
Sources close to the investigation told me that many of the individuals reported missing by eyewitnesses were former policemen and their families.
They were viewed with suspicion by IS fighters and separated from other civilians, transported to strategic locations and used as human shields. At least 50 of them are reported to have been killed and scores decapitated in the past three weeks.
Further information coming to light is both detailed and chilling. Investigators have been told that on 31 October, IS fighters attempted to move some 26,000 civilians from Hamam al-Alil in vast trucks (the numbers are impossible to verify).
However they were thwarted by US-led coalition air strikes. Then in the bad weather which hampered air operations in the following few days, some 1,000 villagers were bundled onto trucks and moved west to the town of Tal Afar.
They were told they would be used as human shields to protect the jihadists retreating across the border into Syria.
In addition, hundreds of government employees working inside Mosul are now feared dead, and tens of thousands more are still being held hostage and are being repeatedly moved from village to village as IS fighters re-position themselves to repel the advancing Iraqi army.
So could the emergence of what could possibly be a mass grave shed any light on the extent of alleged IS atrocities?
Francesco Motta, the representative of the UN Human Rights Commissioner in Iraq, says at this stage he is "unable to verify whether the recently discovered site in Hamam al-Alil was used for prior killings or whether there are 'fresh bodies' at the site, which suggest it may have been used continually".
What is clear, however, is that extent of the alleged atrocities carried out by IS - the summary executions, punishment killings and torture - may only become apparent once the battle for Mosul is won, and with so many civilians' lives at stake, that could take time.