Aleppo battle: Shelling resumes after humanitarian pause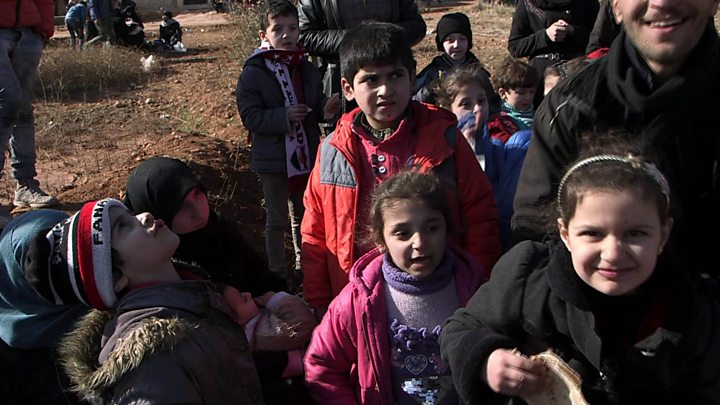 Syria's government has resumed its bombardment of parts of besieged east Aleppo after a brief humanitarian pause, a monitoring group says.
On Thursday, Russia, an ally of Syrian President Bashar al-Assad, said fighting was suspended to allow civilians to leave.
By Friday morning, more than 8,000 people - including 3,000 children - had left, Russia's military said.
Government forces have retaken at least 75% of east Aleppo in recent weeks.
Rebels had controlled the areas for four years.
The UK-based Syrian Observatory for Human Rights said ground forces continued their offensive, and rocket attacks were launched overnight.
"Helicopters, warplanes and rocket bombardment like every day," one Turkey-based official with the Jabha al-Shamiya rebel group told Reuters. "Nothing has changed."
The civilian rescue group known as the White Helmets said 46 civilians were killed and another 230 injured on Thursday in east Aleppo. Three barrel bombs carrying chlorine gas were dropped, it added.
The past two days have seen some of the heaviest civilian casualties in the past fortnight in east Aleppo.
After several previous attempts to flee the besieged area of Salhine, one man, Abdel Hamid, managed to leave with his wife and 10 children on Thursday.
"Most of the people around me were saying 'in any case we will die, so let's leave together'. That encouraged me and we left," he told the AFP news agency.
"I left my house behind... but I have secured my children's right to live. With each step I took I felt like I was getting closer to life itself."