Syria Aleppo: UN envoy urges political solution to war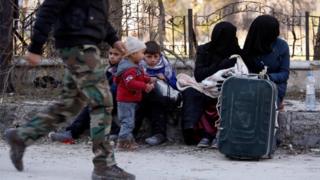 Syrian government forces may have nearly won the battle for east Aleppo but the war is not yet over, the UN special envoy for Syria has warned.
"A serious discussion about the future political set-up of Syria" is the only way to achieve peace, Staffan de Mistura told BBC Radio 4's Today.
US and Russian officials are due to meet in Geneva to discuss the situation in Aleppo later on Saturday.
Syria's army seized 85% of the rebel-held part of the city in recent weeks.
The intensification in fighting has forced tens of thousands to seek refuge in government-controlled territory.
Russian officials say up to 10,500 left during a temporary humanitarian pause on Thursday alone.
"We are at the last steps of the battle for Aleppo...this is likely to end very soon," Mr Mistura told the BBC on Saturday.
"But that's not the end of the war, that's the end of the battle for Aleppo. But it will have a major psychological impact."
The only way to win peace and stability in Syria, he continued, was a power-sharing agreement.
'Worst conflict since WWII'
His comments come as Russian and American officials prepare to meet in a bid to stop Aleppo from "being absolutely, completely destroyed," US Secretary of State John Kerry said.
Talks are expected to focus on ways to protect civilians, as well as the future of the rebels in Aleppo's eastern districts.
But Mr Kerry appeared to downplay the talks saying: "I know people are tired of these meetings, I'm tired of these meetings.
"But what am I supposed to do? Go home and have a nice weekend in Massachusetts, while people are dying? Sit there in Washington and do nothing?"
He described the conflict in Aleppo as the worst "since World War Two itself".
'Shrinking rebel pocket'
The UN General Assembly on Friday voted 122 to 13 to demand an immediate ceasefire in Syria, allow urgent humanitarian aid access throughout the country and an end to all sieges.
General Assembly votes are non-binding but can carry political weight.
The UN estimates there to be up to 100,000 people squeezed into an "ever-shrinking" rebel pocket in eastern Aleppo with little or no access to food, water or medical care.
Syria's government said it was ready to resume dialogue with the opposition but without "external intervention or preconditions".
Rebel fighters on the ground told Reuters news agency eastern Aleppo districts had been hit by highly explosive incendiary bombs, barrel bombs and artillery shelling on Friday.
The UK-based Syrian Observatory for Human Rights reported at least a dozen air strikes on rebel-held districts.
There are also fears for hundreds of men who have gone missing after crossing from rebel-held to government-controlled territory.
The UN also said it had received reports that rebels were blocking some civilians from leaving.
Aleppo was once Syria's largest city and its commercial and industrial hub before the uprising against President Bashar al-Assad began in 2011.
It has been divided in roughly two since mid-2012. But in the past year, Syrian troops broke the deadlock with the help of Iranian-backed militias and Russian air strikes.
Elsewhere in Syria, militants from the so-called Islamic State group have been advancing on Syrian government positions in the countryside around the ancient city of Palmyra.