Syrian war: Peace talks under threat amid rebel warning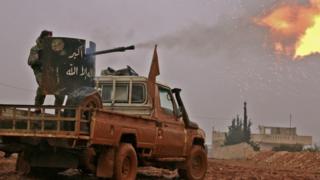 Syrian rebel groups say they are halting preparations for peace talks planned by Russia and Turkey for later this month.
A statement, signed by a number of groups, cited "many big breaches" of the ceasefire by the Syrian government and its allies as the reason.
The ceasefire deal was brokered by Turkey and Russia last Thursday and has mostly held since then.
The peace talks were due to take place in Astana, Kazakhstan.
"The regime and its allies continued their onslaught and committed many big breaches," the statement issued on Monday said.
"Given the escalating situation and the continuous breaches, the signatory armed groups declare... Freezing all discussions regarding the Astana negotiations," it said.
The groups highlighted fighting in the rebel-held region of Wadi Barada, north-west of Damascus, They say the region has been subjected to almost-daily attacks by Syrian forces and their Hezbollah allies.
The Syrian government says the area does not fall under the ceasefire agreement, given the presence of jihadist group Jabhat Fateh al-Sham (JFS), which it says is excluded from the deal. The rebels dispute this.
Wadi Barada contains a major spring which supplies water to millions of residents in the capital. It has been heavily damaged in shelling and air strikes as the government has tried to recapture the area.
The government has accused the rebels of polluting the water source with diesel, forcing it to ration supplies to Damascus. The rebels have denied the accusations.
The reduction has led to a water shortage for over a week, affecting some four million people, the UN says. Water is running for about three hours a day, residents in the capital say, and supermarkets have been banned from selling it in bottles.
On New Year's Eve, the UN Security Council unanimously backed Russian-Turkish efforts to end the fighting in Syria and to organise peace talks.
The talks in Kazakhstan will be mediated by Russia and Iran, who back the Syrian government, and Turkey, a key supporter of the rebels.
It is expected to be followed by a resumption of UN-brokered talks in Geneva in mid-February. The last round of talks collapsed amid acrimony in April 2016.
The ceasefire deal excludes so-called Islamic State (IS) and the Syrian Kurdish Popular Protection Units (YPG) militia, as well as the JFS, according to the Syrian army.
The YPG is an affiliate of the banned Turkish Kurdistan Workers' Party (PKK), both deemed terrorist groups by Turkey.