Jesus miracle church in Israel reopens after arson attack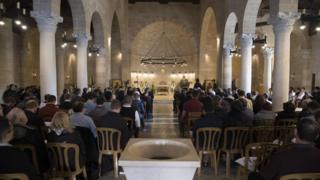 A mass has been held to reopen a Roman Catholic church in northern Israel badly damaged in an arson attack by Jewish extremists in 2015.
The church at Tabgha, on the Sea of Galilee, is built where Christians believe Jesus performed the miracle of the loaves and fishes, also known as the Feeding of the 5,000.
The eight-month renovation work cost some $1m (£800,000).
Three Jewish extremists have been indicted but not yet sentenced.
The arson attack on the Church of the Multiplication of the Loaves and Fishes caused extensive damage to a book shop and other buildings at the complex.
But it did not destroy the 5th Century mosaic floors which are its key archaeological feature.