Dubai's ruler orders men who fed cat to dogs to clean zoo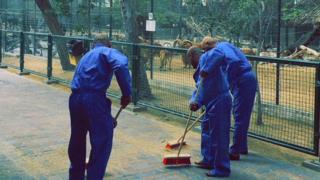 Three men accused of feeding a cat to hungry dogs have been ordered by Dubai's emir to clean its zoo for four hours a day for the next three months.
In a video of the incident, a man can be heard encouraging two dogs to drag the cat from an open cage to punish it for eating chickens and pigeons.
Sheikh Mohammed bin Rashid Al Maktoum condemned the "brutal and cruel act".
Last month, the emir ordered a group of men to clean streets for four hours a day as punishment for reckless driving.
It is not clear if the men who fed the cat to the dogs will also face prosecution.
Maj Gen Khalil al-Mansouri of Dubai police force's criminal investigation department warned on Tuesday that those convicted of animal cruelty could face jail terms and heavy fines under a new law in the United Arab Emirates.
He also urged the public to refrain from posting such videos on social media.