Russia questions US Himars missile deployment in Syria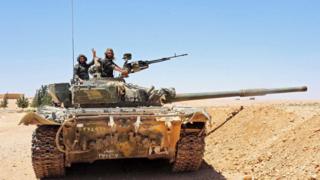 The Russian defence ministry has raised concerns about US multiple-rocket launchers being deployed at a base in eastern Syria.
It said it was not impossible the two Himars launchers being set up in al-Tanf would be used against troops fighting so-called Islamic State.
The launchers were reportedly brought in from Jordan to Tanf, which is used by rebels and Western special forces.
US aircraft bombed a government convoy in the area last month.
Syrian- and Iranian-backed militiamen had reportedly been moving towards the base, located in a sparsely populated desert region.
Russia is the Syrian government's main military ally.
"It's not impossible that similar attacks on Syrian forces will be continued in the future - this time, using Himars," the Russian defence ministry said.
The Syrian government said this week it had regained territory in the Tanf area.