White House: Qatar Gulf row is a 'family issue'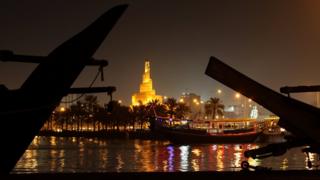 The US government has called the growing crisis between Qatar and its Gulf neighbours a "family issue".
White House press spokesman Sean Spicer made the comments during an off-camera briefing to journalists in Washington.
Qatar is under strict sanctions from Saudi Arabia and its allies, who have sent it a list of 13 demands it must meet before sanctions are lifted.
Among the demands are that Qatar shutter its Al Jazeera news network and cut back ties to Iran.
The Arab states involved all have close ties with the US, but the US State Department and Secretary of State Rex Tillerson have yet to make a formal statement on the demands that were made public on Friday.
"The four countries that are part of that - we believe it's a family issue and that they should work [it] out," said Mr Spicer.
"If we can help facilitate those discussions then so be it. They want to, and should work out for themselves."
Mr Tillerson had been expected to address the issue on Friday.
He had previously anticipated the release of a list of demands from the Saudis and their allies: Bahrain, Egypt and the United Arab Emirates.
The countries want Qatar to comply to the 13 orders before they will lift severe sanctions, which were first imposed on it earlier this month.
They say Qatar is funding terrorism and fostering regional instability, accusations it denies.
The Qatari foreign ministry confirmed early on Saturday that it had received the list of demands, and would now "prepare an appropriate response."
US President Donald Trump has taken a hard line towards Qatar, accusing it of being a "high level" sponsor of terrorism.
However, the largest US base in the Middle East is in Qatar, meaning it is caught in the middle.
---
A mess the US helped create - By Paul Danahar, BBC Washington bureau chief
For the White House Press Spokesman Sean Spicer to say "we believe this is a family issue" is to ignore the role President Trump's administration played in stoking this conflict.
Tensions between the Gulf States and Qatar have been particularly bad since the 2011 Arab Spring, when Qatar tried to play kingmaker in the region. They heavily invested in the Muslim Brotherhood and its affiliates.
That angered the Saudis not only because they see themselves as regional top dog, but also because they see the Brotherhood as an existential threat to their hold on power at home.
During President Trump's visit to the Middle East in May he created the impression in the Arab world that he had picked a side, the Saudi one. That emboldened the Saudis to act against Qatar while the going was good.
Now, if the US does not act to unpick a mess it helped create, no one else can or will and so things are likely to get worse.
---
An unnamed official from one of the four countries sanctioning Qatar told Reuters news agency that Qatar was also being asked to sever links with so-called Islamic State, al-Qaeda and Lebanese Shia militant group Hezbollah.
The demands have not been officially unveiled.
Their publication, first via The Associated Press news agency, has increased the friction between the two sides.
What are the demands?
According to the Associated Press, which obtained a copy of the list, Qatar must:
Sever all ties with the Muslim Brotherhood, which is banned in other Arab states
Refuse to naturalise citizens from the four countries and expel those currently on its territory, in what the countries describe as an effort to keep Qatar from meddling in their internal affairs
Hand over all individuals who are wanted by the four countries for terrorism
Stop funding any extremist entities that are designated as terrorist groups by the US
Provide detailed information about opposition figures whom Qatar has funded, ostensibly in Saudi Arabia and the other nations
Align itself politically, economically and otherwise with the Gulf Co-operation Council
Stop funding other news outlets in addition to Al Jazeera, including Arabi21 and Middle East Eye
Pay an unspecified sum in compensation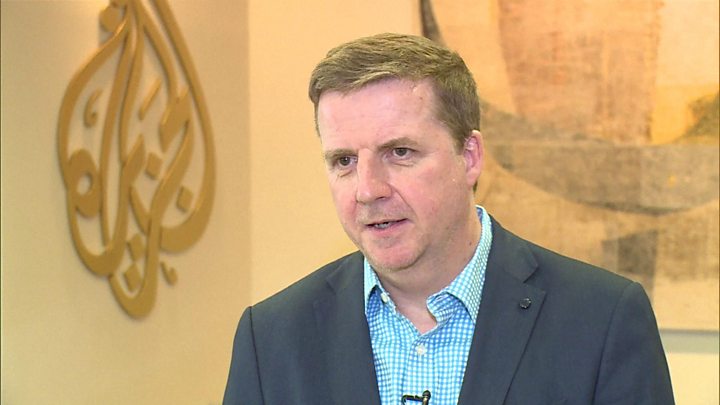 What if Qatar doesn't meet the demands?
If 10 days pass and Qatar has failed to comply, the list becomes "void", the Reuters source said.
It would appear that at least some of the demands are unacceptable to Qatar.
Foreign Minister Sheikh Mohammed said this week his country would not accept any "foreign dictations" and "rejected discussing any matter related to the Al Jazeera channel as it considered it an internal affair".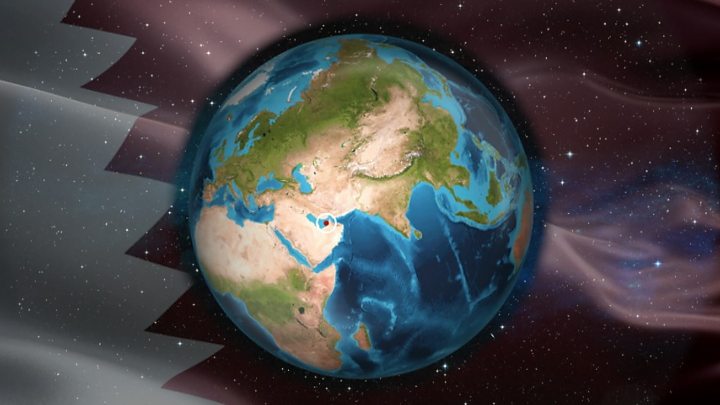 The sanctions have forced to make alternative arrangements for importing food and other goods. Iran and Turkey are assisting with extra supplies.
Iran has also opened its airspace to flights to and from Qatar, which has been banned from using Saudi and other countries' airspace.
---
Do you live in Qatar? Have you been affected by the sanctions? Let us know by emailing haveyoursay@bbc.co.uk
You can also contact us in the following ways: