UAE cuts sentences for Singaporeans jailed for cross-dressing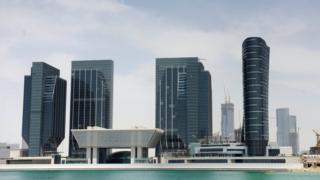 A pre-operative transgender woman and a man, both from Singapore, jailed in the United Arab Emirates for cross-dressing have had their sentences reduced to a fine and deportation, officials say.
Nur Qistina Fitriah Ibrahim and Muhammad Fadli Bin Abdul Rahman were arrested in Abu Dhabi on 9 August for "wearing women's clothes in public".
A court found them guilty last week and sentenced them to a year in prison.
But UAE officials now say they will only have to pay $2,720 (£2,110) fines.
Article 358 of the UAE's penal code criminalises "indecent attire" as an act of public indecency.
It also criminalises sodomy, as well as sex outside marriage.
Ms Ibrahim, 37, and Mr Fadli, a 26-year-old freelance fashion photographer, were stopped by police at Yas Mall in Abu Dhabi as they tried to eat at a food court, the campaign group Detained in Dubai said on Tuesday.
Mr Fadli was wearing a white T-shirt, a bow tie and earrings at the time, his brother Muhammad Saiful Bahri Bin Abdul Rahman was quoted as saying by the Associated Press on Thursday.
It is not clear what Ms Ibrahim was wearing, but her younger sister told the Straits Times that her documents stated her gender as male because she had not undergone reassignment surgery.
Neither of the Singaporeans was represented by a lawyer in court on 20 August, nor was there anyone from the Singaporean embassy, according to Mr Saiful.
Singapore's ministry of foreign affairs said diplomats had held four meetings with them since their arrest, the first taking place on 10 August after the embassy was notified of their case.
The pair's families and the Singaporean embassy declined to comment on Monday on the reports that their sentences had been reduced, the Associated Press said.