Casualties from cluster munitions doubled in 2016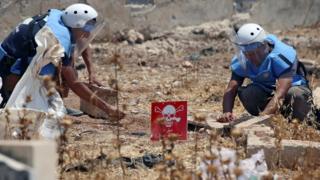 The number of casualties caused by cluster munitions in 2016 was more than double that recorded the previous year, a disarmament group says.
A new report by the Cluster Munition Coalition found 971 people were killed or injured globally last year, with 860 of them in Syria and 38 in Yemen.
Almost all were civilians and most were caught up in cluster munition attacks.
Cluster munitions open in the air to release small bomblets over a wide area that often fail to detonate on impact.
The unexploded remnants pose the same danger as landmines until cleared.
An international treaty prohibiting the use of cluster munitions and requiring the destruction of stockpiles came into force in 2010 and has been ratified by 102 state parties. Another 17 countries have signed but not yet ratified the convention.
The Cluster Munition Monitor 2017 report says the 971 cluster munition causalities identified last year was the second-highest figure since reporting began in 2009.
Most of the casualties - 837 in Syria and 20 in Yemen - occurred during new attacks, while more than 100 were known to have been killed or injured globally by previously unexploded bomblets.
In Laos, all of the 51 casualties recorded in 2016 were the result of landmine-like remnants of munitions that were dropped on the country in the 1960s and 1970s.
"The only sure way to end this insidious menace is to have all states embrace and adhere to the international ban on these weapons," said Jeff Abramson, co-ordinator of the Landmine and Cluster Munition Monitor initiative.
"The humanitarian devastation caused by cluster munitions is particularly acute in Syria, where use has continued unabated since mid-2012."
At least 238 attacks were recorded by activists, journalists, first responders and medics in opposition-held areas across Syria between August 2016 and July 2017.
The report says cluster munitions were being used by the Syrian military "in co-operation with Russia", which launched an air campaign in support of President Bashar al-Assad in September 2015.
Russia has not explicitly denied any involvement in cluster munition attacks in Syria, but has said the munitions are being used in accordance with international law and not indiscriminately.
In Yemen, the number of cluster munition attacks by the Saudi-led coalition supporting the government in its war against the rebel Houthi movement declined last year following widespread international condemnation, according to the report.
The coalition has said they are only used against "legitimate military targets".
The report said that during 2016 three state parties to the Convention on Cluster Munitions destroyed 56,000 cluster munitions and 2.8 million submunitions, meaning 97% of all cluster munitions declared as stockpiled have been destroyed.
Operators surveyed and cleared at least 88 sq km (34 sq miles) of contaminated land worldwide last year, resulting in the destruction of 140,000 submunitions.