Palestinian Authority 'detains rights activist over criticism'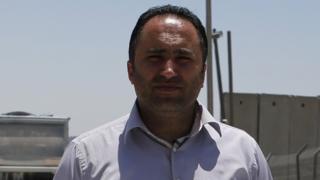 The Palestinian Authority is reported to have extended the detention of a prominent human rights activist who called on it to respect free speech.
Issa Amro, 35, was detained on Monday by Palestinian Preventive Security in Hebron, in the occupied West Bank.
Palestinian officials have not commented, but a local non-governmental organisation says prosecutors have accused him of "causing strife".
Amnesty International and Human Rights Watch have condemned the move.
"It is outrageous that a prominent human rights defender has been arrested simply for voicing his opinion online. Criticising the authorities should not be a criminal offence," said Magdalena Mughrabi, Amnesty's deputy Middle East director.
Amnesty said Mr Amro, the co-ordinator for Youth Against Settlements group, had posted comments on his Facebook page criticising the arrest by Palestinian security forces on Sunday of a local radio journalist who had called for the resignation of President Mahmoud Abbas.
"We have seen an alarming escalation in the Palestinian authorities' clampdown on freedom of expression in recent months," said Ms Mughrabi.
"Instead of continuing to step up their efforts to quash dissenting voices, the Palestinian authorities should immediately and unconditionally release Issa Amro and stop harassing and intimidating activists and others for daring to speak their minds freely."
Mr Amro is also currently being tried by an Israeli military court on several charges that include calling for illegal protests and obstructing the official duties of soldiers.
He has rejected the charges, which Amnesty has described as "baseless".
In Hebron, where Mr Amro is based, several hundred Jewish settlers live in heavily-guarded enclaves surrounded by some 200,000 Palestinians. The settlements are considered illegal under international law, though Israel disputes this.