Syria war: Stranded IS convoy reaches Deir al-Zour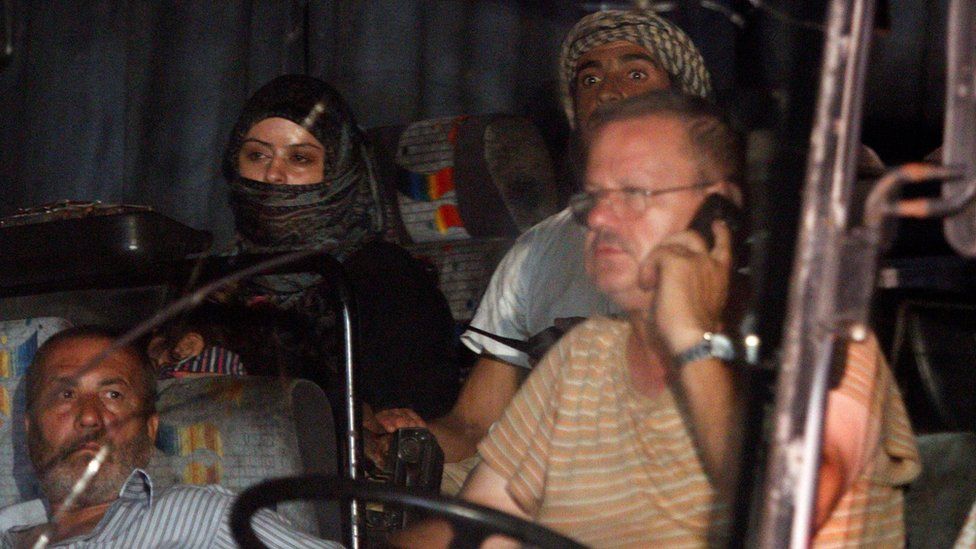 Buses carrying evacuated Islamic State militants and members of their families have reportedly reached IS-held territory in eastern Syria.
Syria's government allowed the convoy to travel across the country as part of a deal that saw the militants leave an enclave on the Syrian-Lebanese border.
But it was stranded in the desert for days after a US-led coalition vowed to stop it reaching Deir al-Zour province.
Activists said late on Wednesday that the buses had made it through.
Anti-IS coalition drones left the skies above the convoy on Friday, after conducting strikes that left craters in roads, destroyed bridges and targeting militants who fled.
The US-led coalition said it had ended its surveillance at the request of Russian officials to allow Syrian government and Russian forces "advance past" the convoy during their assault on Deir al-Zour and to "ensure safe de-confliction efforts to defeat" IS.
About 300 militants and 300 civilians left the IS enclave on 28 August as part of a deal to end simultaneous offensives by the Lebanese army, the Syrian government and allied fighters from Lebanon's Hezbollah movement.
It was agreed that the convoy of 17 buses would be given safe passage to Albu Kamal, a town in south-eastern Deir al-Zour province that is only 6km (4 miles) from the border with Iraq.
However, the coalition swiftly declared that it was not party to the deal and would take action to prevent IS militants reaching the border area.
The coalition did not attack the convoy, but it did bomb the road heading between Hamayma and Albu Kamal and IS vehicles that attempted to reach the buses.
The convoy remained in the desert for several days before splitting in two, with 11 buses remaining in the desert and six retreating to government-held territory.
The buses ended up travelling along the main road between Sukhna and the city of Deir al-Zour, where government forces broke a long-running IS siege last week.
The Syrian Observatory for Human Rights, a UK-based monitoring group, confirmed that the buses had crossed into IS-held territory late on Wednesday.
A commander in a military alliance fighting in support of the Syrian government also confirmed the news, telling Reuters news agency: "The deal has been completed."
Along the route, the militants had handed over a Hezbollah prisoner, he said.