Qatar 'uses $38bn to support economy' during Gulf crisis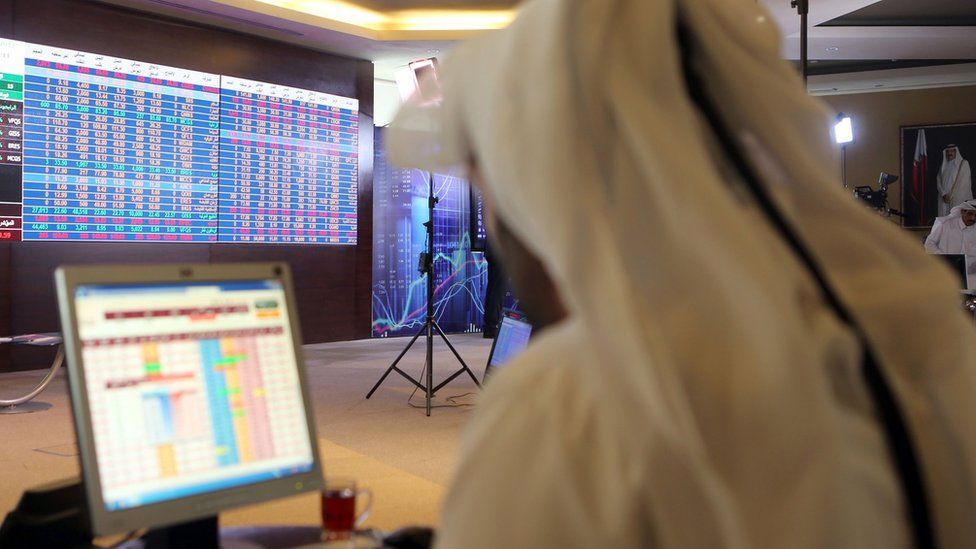 Qatar has used $38bn (£29bn) to support its economy during a dispute with other Arab states, a rating agency says.
The trade, tourism and banking sectors have been worst hit by the restrictions put in place since June by Saudi Arabia, the United Arab Emirates, Egypt and Bahrain, according to Moody's.
It estimates that about $30bn has flowed out of Qatar's banking system and expects further withdrawals.
Qatar's neighbours say they cut it off over its alleged support for terrorism.
It denies supporting extremist groups and says the crisis is politically motivated.
The Saudi-led bloc announced on 5 June that they had severed all links with Qatar.
Qatar's only land border was closed; ships flying the Qatari flag or those serving Qatar were banned from docking at many ports; and much of the region's airspace was closed to both Qatari aircraft and foreign airlines flying to and from Doha.
The Qatari government stressed that it had sufficient resources to defend its economy during the crisis, but foreign investors took flight with no progress being made towards a resolution.
Qatar's stock market has lost 15% of its market value in 100 days, hitting a 52-month low this week.
The emirate's banks have also faced higher funding costs, as some Gulf lenders opted not to roll over their deposits.
Moody's estimated that Qatar had used $38.5bn - equivalent to 23% of GDP - to support the economy in the two first months of the crisis.
It also warned that the diplomatic dispute had created uncertainty across the Gulf and could negatively affect the credit outlook of all the countries involved.
"The severity of the diplomatic dispute between Gulf countries is unprecedented, which magnifies the uncertainty over the ultimate economic, fiscal and social impact on the GCC [Gulf Co-operation Council] as a whole," said Moody's Vice-President Steffen Dyck.
"While we expect the GCC to overcome its divisions, tensions persisting - or even escalating - would be the most credit negative for Qatar and Bahrain."
Rising debt, increased debt issuance from other GCC states, and rising US interest rates had put pressure on Bahrain's financing costs since 2014, Moody's said.