Syria war: Turkey, Russia, Iran agree Idlib 'ceasefire' zone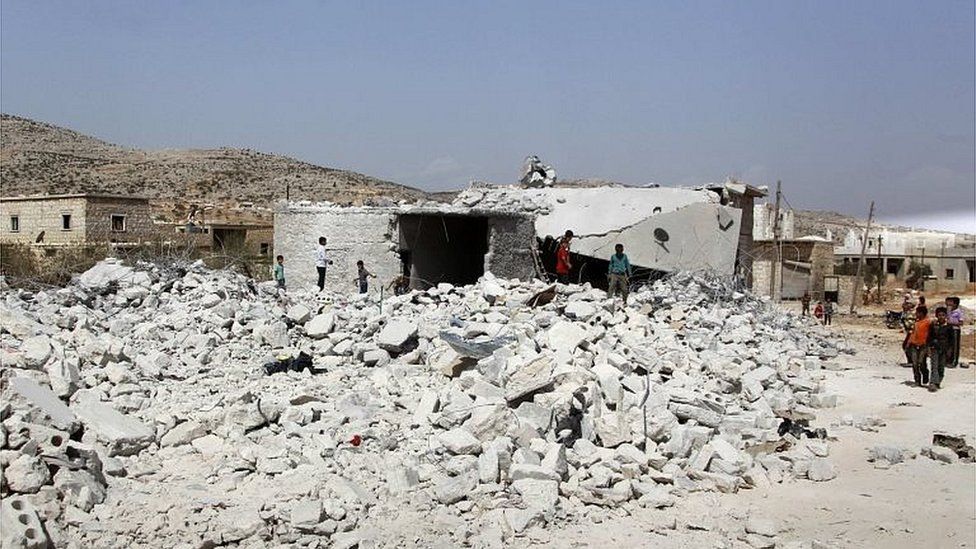 Powers backing rival sides in the Syrian war have agreed on the latest in a series of so-called "de-escalation zones", aimed at calming fighting.
Turkey, which opposes the Syrian government, and Syria's allies Russia and Iran reached a deal in talks in the Kazakh capital, Astana.
The plan will apply to Idlib - where jihadists hold sway - and parts of Latakia, Aleppo and Hama provinces.
The establishment of "safe" zones has led to a marked drop in fighting.
Syria's conflict has left more than 330,000 people dead and displaced millions more since it broke out in 2011.
The powers also agreed to deploy their forces to points along the boundaries of the zone to monitor compliance.
The plan for the de-escalation zones, which was initially agreed upon at talks in May, allows for militant groups to still be targeted.
Idlib, the last province entirely outside of government control, is the stronghold of jihadist alliance Hayat Tahrir al-Sham (HTS) led by al-Qaeda's former official affiliate, which is not party to the agreement.
It is also a base of what has been an important Turkey-backed Islamist rebel group, Ahrar al-Sham, which has refused to take part in the talks. Some armed groups, and the Syrian government, have sent delegations.
Although Turkey has long called for Syrian President Bashar al-Assad's removal, in recent months it has worked with Russia and Iran to gradually freeze the fighting.
Three other "de-escalation zones" which have come into effect since July, cover parts of south-western Syria, the outskirts of Damascus and part of central Homs province.