Egypt mass trial sees hundreds imprisoned over 2013 protests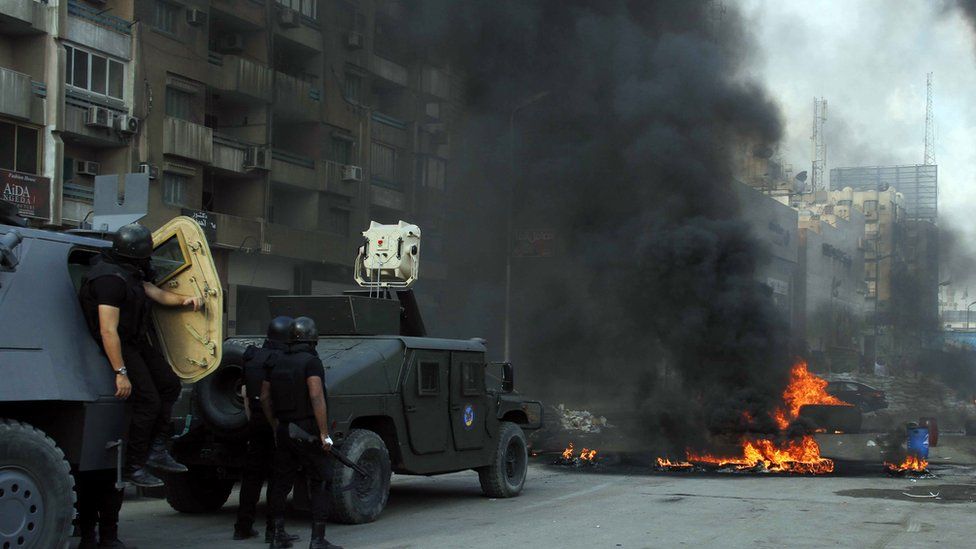 Forty-three people have been sentenced to life in prison after a mass trial in Egypt that also saw years-long sentences given to hundreds of others.
Almost 500 people were charged with crimes over the violence which erupted following the removal of President Mohammed Morsi in 2013.
Three hundred of those on trial received sentences ranging from five to 15 years.
Fifty-four people were acquitted, including Irish citizen Ibrahim Halawa.
A US citizen, Ahmed Etiwy, was among those sentenced to five years in prison.
The mass trial was held in a courtroom at Wadi al-Natroun prison north of Cairo, human rights group Amnesty International says.
The defendants faced a range of charges, including killing 44 people, breaking into a mosque, and possessing firearms, following rallies in support of the ousted Mr Morsi in August 2013.
Hundreds of protesters and dozens of security personnel died when security forces broke up pro-Morsi gatherings.
In the months that followed, there was a crackdown on the former president's supporters, and on the Muslim Brotherhood group to which he belongs, which Egypt later declared a "terrorist organisation".
Thousands of people have been arrested since.
In the latest mass trial, all defendants had faced a possible death penalty, but instead:
43 were sentenced to life imprisonment (25 years)
17 were sentenced to 15 years
67 were given 10-year sentences
216 were given five years
52 were acquitted
It remains unclear exactly what sentences the others received.
Amnesty International labelled the mass trial "utterly disgraceful" and accused the court of "sham proceedings".
It claimed that out of 330 defendants who had been imprisoned for more than four years, there was only evidence against two of them.
"These proceedings expose the deep flaws in Egypt's notorious criminal justice system," the group's North Africa campaign spokesperson, Najia Bounaim, said.