Syrian activist and journalist daughter 'murdered' in Istanbul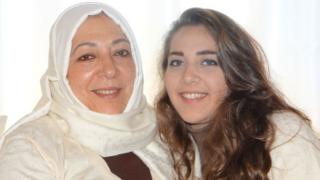 A prominent Syrian opposition activist and her journalist daughter have been found dead in Turkey, police say.
The bodies of Orouba Barakat, 60, and her 22-year-old daughter Halla were discovered overnight in their apartment in Istanbul's central Uskudar district, after friends raised the alarm.
Orouba's sister, Shaza, said they had been stabbed to death.
In a post on Facebook, she also alleged the two women had been assassinated "by the hand of tyranny and injustice".
"Orouba wrote headlines for the front page, and she pursued criminals and exposed them. Her name and her daughter's name, Halla, are now in the front-page headlines," she added.
Turkish media reported that Orouba had been investigating allegations of torture in prisons run by the government of Syrian President Bashar al-Assad.
Halla was working as an editor for the pro-opposition website Orient News.
Both women were also friends with US aid worker Kayla Mueller, who was kidnapped by so-called Islamic State in Syria in 2013 and died in captivity two years later.
In an interview with ABC News last year, they spoke about their work with Mueller aiding Syrian refugees, including mothers and children.
"Just saying Kayla's name in front of them, they smile," Orouba told the American news site.
"Orouba and Halla were like a mother and sister to Kayla. They never gave up on saving her," Mueller's parents said in a statement to ABC after the news of their deaths emerged.
The US Department of State said it was "deeply saddened" by their deaths, paying tribute to the "courageous" work of Orouba Barakat. "The United States condemns the perpetrators of these murders and we will closely follow the investigation," it added.
Tributes have also been paid on social media, including one by fellow journalist and friend of Halla, Razan Saffour.
It is not the first time for tragedy to strike the family: a cousin - Deah Barakat - was shot dead alongside his wife and sister in Chapel Hill, North Carolina, in 2015.
The killings sparked international outrage, especially on social media where the hashtag #ChapelHillShooting was used hundreds of thousands of times.
Their neighbour, Craig Hicks, was charged with their killings. The family believe it was a hate crime targeting Muslims, but this was disputed by the US Attorney for North Carolina after initial investigations. A trial date has not yet been set.
Since the start of Syria's civil war six years ago, Turkey has become home to more than three million Syrian refugees, many of them opposition supporters.
In 2015, three Syrian activists from Raqqa is Being Slaughtered Silently, an activist group that opposes so-called anti-Islamic State (IS), were murdered in Turkey.
A Syrian journalist who reported on the fight against IS was shot dead last year.