Interpol approves Palestinian membership despite Israeli opposition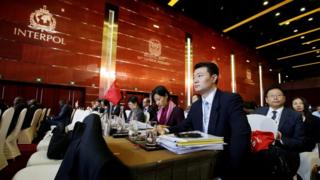 Interpol has admitted the Palestinian territories as a new member, despite opposition from Israel.
The international policing body backed membership for "the State of Palestine" at its annual general assembly.
Palestinian Foreign Minister Riyad al-Maliki declared the news a "victory", made possible by the "principled position" of most Interpol members.
Israel tried to delay the vote, arguing that Palestine was not a state and therefore ineligible for membership.
Israel says the only way for the Palestinians to achieve their goal of an independent state is through a negotiated peace settlement.
However, five years ago the United Nations General Assembly upgraded the status of the Palestinians to "non-member state".
Interpol said membership applications by "the State of Palestine" and the Solomon Islands were both approved by a two-thirds majority on Wednesday. Israeli media reported that 75 members voted "yes", 24 voted "no", and 34 abstained.
"On this joyous occasion, the State of Palestine reiterates its commitment to upholding its obligations and contributing to fighting crime and furthering the rule of law," Mr Maliki said in a statement.
Israel's Deputy Minister for Diplomacy, Michael Oren, criticised the vote, writing on Twitter: "By admitting 'Palestine', which praises terrorists of the past and refuses to condemn those of today, Interpol makes the world less safe."
On Tuesday, two Israeli security guards and a border policeman were shot dead by a Palestinian at the entrance to a Jewish settlement in the occupied West Bank.
The attack was the latest in a wave of stabbings, shootings and car-rammings of Israelis predominantly by Palestinians or Israeli Arabs.
Since late 2015, some 50 Israelis and five foreign nationals have been killed in such attacks in Israel and the Occupied Territories.
About 300 Palestinians - most of them assailants, Israel says - have also been killed in that period, according to AFP news agency. Others have been killed in clashes with Israeli troops.
Israel says Palestinian incitement has fuelled the attacks. The Palestinian leadership has blamed frustration rooted in decades of Israeli occupation.