US-led coalition service member killed by IED in Iraq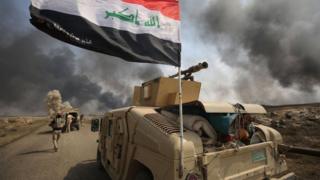 The US-led coalition against so-called Islamic State (IS) says one service member has been killed and a second injured in a roadside bombing in Iraq.
An improvised explosive device (IED) struck their vehicle on Sunday, according to a statement.
The names and nationalities of the casualties are being held until their families have been notified.
Seven US personnel have been killed in Iraq since 2014, including two in the battle to retake the city of Mosul.
A French soldier was also killed in the fight against IS last month, although it is not known if he died in Iraq or Syria.
The non-commissioned officer from the elite 13th Parachute Dragoons Regiment was advising local forces when they came under fire.
The US, France, the UK and a number of other coalition countries have deployed military personnel on the ground in Iraq to train Iraqi and Kurdish security forces since IS militants swept across the north and west of the country three years ago.
They are not combat troops and are not deployed in an offensive role.
The US, UK, France, Australia, Jordan and Belgium are also conducting air strikes.
Last month, Iraqi pro-government forces launched simultaneous offensives against the last two IS footholds in the country - around Hawija, 220km (135 miles) north of Baghdad, and around Ana, in the western desert close to the border with Syria.
On Monday, military commander Lt Gen Abdul Amir Yarallah said Counter-Terrorism Service personnel and paramilitary Popular Mobilisation militiamen had started an operation to clear the town of Rashad, south-east of Hawija.
Other troops started an assault on Hawija itself on Friday.