Syria war: Suicide bombers target Damascus police station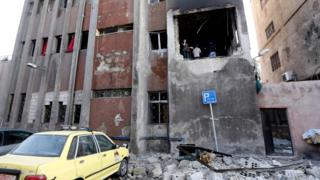 A number of policemen and civilians have been killed in a twin suicide bomb attack in the Syrian capital, Damascus.
Interior Minister Mohammed Shaar said one assailant blew himself up at the main entrance to a police station in the central Midan district.
A second detonated his explosive belt after being shot by officers on the first floor of the building, he added.
There was no immediate claim for the bombing, which was the first such attack in the city since July.
Similar bombings have been carried out by militants from so-called Islamic State or Hayat Tahrir al-Sham, a jihadist alliance formerly known as al-Nusra Front.
Mr Shaar did not say how many people were killed in Monday's attack.
The UK-based activist monitoring group, the Syrian Observatory for Human Rights, reported that at least 11 died, among them six police officers, while the pro-government al-Mayadeen television channel put the death toll at 10.
The Syrian Observatory also said that a car bomb had been detonated during the attack, but Mr Shaar did not mention a third explosion.
Manal, a 28-year-old teacher who lives in Midan, heard at least two blasts.
"I was coming back from work when I heard the sound of an explosion, it was around 14:30, I didn't know what it was, and then there was another explosion a few minutes later and buildings shook," she told AFP news agency.
"Afterwards I heard gunfire, which usually happens to get people to move out of the way and clear the road so ambulances can get through to retrieve the injured."
Last December, three policemen were wounded when a young girl reportedly walked into the same police station in Midan wearing an explosive belt that was detonated remotely.
Midan is a predominantly Sunni Muslim area that witnessed some of the biggest peaceful protests against President Bashar al-Assad at the start of the civil war.
In a separate development on Monday, the Syrian Observatory reported that 10 members of Lebanon's Hezbollah movement had been killed in a suspected drone strike near the town of Sukhna, in the Badiya desert region of Homs province.
Hezbollah fighters helped Syrian government forces drive IS militants out of Sukhna in August.