Saudi TV concert prompts nostalgia and condemnation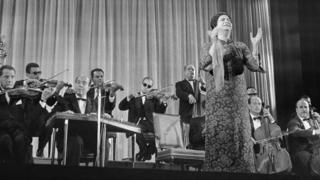 Days after it announced the end of its ban on women drivers, Saudi Arabia appears to have taken another step towards a more progressive image, with the broadcast of a concert on state TV.
The airing of a show by iconic Arab singer Umm Kulthum on the culture and arts channel Al-Thaqafiya was the first such broadcast on Saudi state TV in decades.
The late Umm Kulthum enjoys legendary status across the Middle East, particularly among older and generations.
Saudi Crown Prince Mohammed bin Salman has championed a number of reforms for the post-oil era.
His project, dubbed Vision 2030, assumes that women will play a bigger role in society.
The announcement of the programme on Al-Thaqafiya's Twitter feed was retweeted over 1,000 times and it remained a key talking point on social media for several hours. At least 54,000 tweets were posted under the Arabic hashtag "Umm Kulthum returns to the Saudi channel".
Saudi fans of the late Egyptian singer celebrated the decision, sharing their favourite lyrics songs, as well as pictures from her live performances.
In contrast, some users shared Koranic verses warning of divine punishment.
Some conservative Muslims deem songs to be a sinful distraction from worship and believe most music should be banned.
End of an era
Both the supporters and opponents of the decision agreed that it represents the end the so-called "awakening" which has seen Islamist forces ramp up influence in Saudi Arabia over the past few decades, following the 1979 siege of the Grand Mosque in Mecca, led by religious activist Juhayman al-Otaybi.
The event, which saw hundreds of Otaybi's followers take over Islam's holiest site, led authorities to crack down on the "Westernised" behaviours that his puritan movement rose up against.
User Anwar al-Khalil shared an image from the concert on Al-Thaqafiyah and wrote: "Tonight at midnight, the culture channel announced the death of Juhayman and his ideas."
Salman al-Shamri tweeted: "Al-Thaqafiyah, do not believe that you caused any problems in the country. This is old stuff from the days of Juhayman may God damn him. We want Fairuz [famous Lebanese singer]."
Conservative users also referred to the incident, describing it as the inevitable consequence of decadent behaviour.
"When Juhayman and his group took over the Haram in the late seventies they had the excuse of wanting to ban cinema and music. Here you are giving new excuses to anyone who wants to undermine security. God save us," user Ali al-Ghamdi said.
Taking a jab at the wider Islamist revival movement Saudi author Turki al-Hamad wrote: "Thank God that we went through decades of slumber to discover its falsehood. If we had not, someone could now say that if we tried the "awakening" we would be better off. Thank God despite all the suffering."
However, supporters of the decision viewed it as an overdue return to normality. Mutaib Abu Sultan tweeted: "It was a lovely evening. We have missed these since the late 1970s."
Another, Mohammed al-Ahmed, said: "Life returns to normal and we return to being normal people who live like everyone else on the planet."
BBC Monitoring reports and analyses news from TV, radio, web and print media around the world. You can follow BBC Monitoring on Twitter and Facebook.