Syria war: Russian strike 'critically injures' jihadist leader Jawlani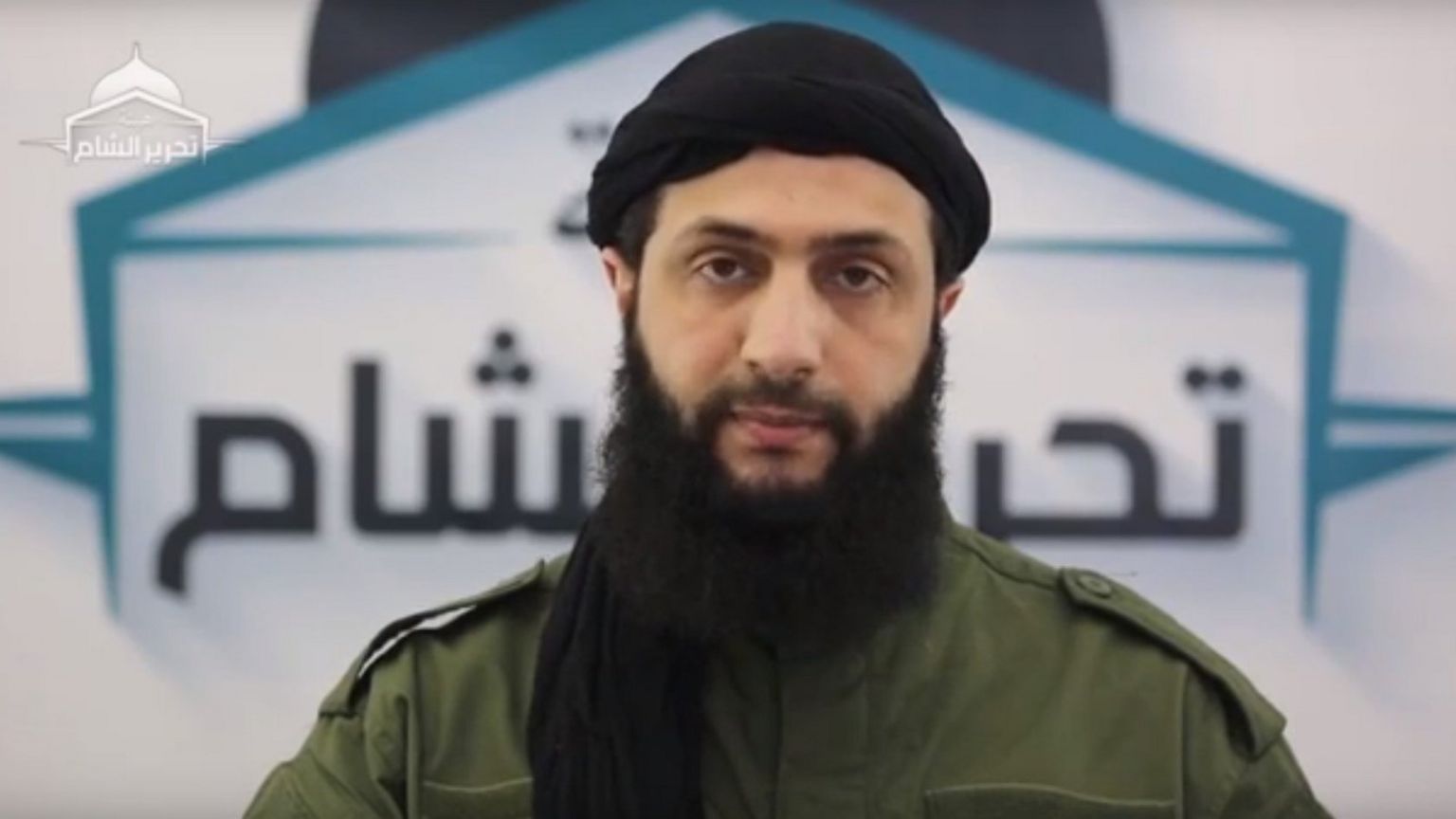 Russia says one of its air strikes in Syria has critically injured the leader of an al-Qaeda-linked jihadist alliance and 12 of his field commanders.
The defence ministry cited its sources as confirming that Abu Mohammed al-Jawlani lost limbs in the attack in the north province of Idlib on Tuesday.
The strike came after Russia's military learnt where Hayat Tahrir al-Sham (HTS) commanders were due to meet, it added.
The jihadi group denied the claim, in a statement on its Telegram message app.
Jawlani was in "good health and exercising the duties assigned to him completely", HTS said.
However, HTS-linked news outlet Iba reported on Tuesday that Russian air strikes had targeted an airport and courthouse around Abu al-Zuhur in eastern Idlib, killing three people and wounding several others.
Russia has conducted air strikes in support of Syrian President Bashar al-Assad since 2015, targeting both jihadists and Western-backed rebel forces.
A defence ministry statement said that on Monday Russian military intelligence had "uncovered information on the time and place of a meeting" of the HTS leadership.
"Following confirmation via various sources that the terrorists had arrived and the meeting had begun, the command headquarters of the Russian forces in Syria took the decision to carry out an air strike. Su-34 and Su-35 aircraft from the Russian aviation on duty were allocated for this task."
As a result of the air strike, Jawlani sustained "a number of serious shrapnel wounds and lost limbs" and was in a critical condition, the ministry added, citing "several independent sources".
Twelve HTS field commanders - including Akhmad al-Gizan, the head of Jawlani's security service - were "eliminated", along with about 50 guards, it added.
HTS is one of the most powerful armed groups in Syria and has controlled most of Idlib since dislodging previously allied rebel factions earlier this year.
Idlib - which is home to two million people, many of them displaced by fighting elsewhere in Syria - forms one of four "de-escalation zones" agreed in May by Russia, fellow Assad ally Iran and Turkey, which backs the rebellion.
The US has offered a reward of up to $10m (£7.5m) for information on Jawlani, a Syrian national who founded al-Nusra Front in 2011 with the help of what was then known as Islamic State in Iraq (ISI).
Two years later, he rejected the announcement by Baghdadi of a merger between ISI and al-Nusra, and instead pledged allegiance to al-Qaeda and its leadership.
In 2016, Jawlani declared that al-Nusra had broken off formal ties with al-Qaeda and said it was changing its name to Jabhat Fateh al-Sham. However, the attempt to distance the group from al-Qaeda failed to convince the international community.
Then at the start of this year, the group announced that it had merged with four smaller factions to form Hayat Tahrir al-Sham (Liberation of the Levant Organisation).
Jawlani was initially named the new alliance's "general military commander" rather than its leader. That position went to former Ahrar al-Sham leader Hashim al-Sheikh, also known as Abu Jabir.
But on Sunday, a short statement issued by HTS announced the resignation of Abu Jabir as leader and the appointment of Jawlani as caretaker.
HTS was recently hit by a crisis after conversations involving senior officials, including Jawlani, were leaked, prompting the resignation of a high-profile Saudi cleric. One of its biggest factions, Jaysh al-Ahrar, also left the alliance.