Syria war: Fighting worst since battle for Aleppo - ICRC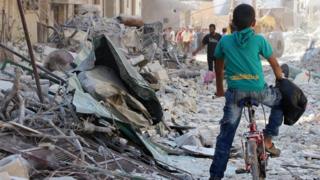 Several regions of Syria are witnessing the worse fighting since the battle for Aleppo least year, the International Committee of the Red Cross (ICRC) says.
The humanitarian organisation expressed alarm at recent reports of hundreds of civilian casualties and the destruction of hospitals and schools.
Much of the fighting is in Raqqa, Deir al-Zour and rural areas west of Aleppo.
But it is also occurring in three so-called "de-escalation zones" - Idlib, rural Hama, and the Eastern Ghouta.
Russia and Iran, which support Syrian President Bashar al-Assad, agreed to set up the zones along with Turkey, which backs rebel forces, in May.
"While recent months had provided some reasons to be hopeful, the return to violence is once again bringing intolerable levels of suffering to wide areas of the country," said the ICRC's head of delegation in Syria, Marianne Gasser.
She added: "My colleagues report harrowing stories, like a family of 13 who fled Deir al-Zour only to lose 10 of its members to air strikes and explosive devices along the way."
As many as 10 hospitals have reportedly been damaged during the last 10 days, cutting hundreds of thousands of people off from access to basic healthcare.
The ICRC said the fighting around the eastern city of Deir al-Zour - where Syrian pro-government forces, helped by the Russian military and Iranian-backed militias, and the US-backed Syrian Democratic Forces (SDF) alliance are battling the jihadist group Islamic State (IS) - is endangering water supplies there.
With swelling numbers of civilians fleeing military operations, humanitarian organisations were struggling to provide water, food and basic hygiene, it added.
The Syrian Observatory for Human Rights has said at least 3,000 people, including 955 civilians, were killed during September, making it the deadliest month of the conflict so far this year. More than 70% of the civilians were killed in air strikes, according to the UK-based monitoring group.
In a separate development, the Organisation for the Prohibition of Chemical Weapons said the nerve agent Sarin was used in an "incident" in a rebel-held village on 30 March, five days before a deadly chemical attack on Khan Sheikhoun.
Traces of Sarin were found in soil samples, clothing and metal parts taken from Latamina, OPCW director general Ahmet Uzumcu told AFP news agency.
Fifty people were reportedly injured in the event, but there were no deaths.
Human Rights Watch said in May that it was told by witnesses that a Syrian government or Russian warplane dropped bombs on Latamina that day, and that photos and videos of the injured indicated they were exposed to a nerve agent.
UN human rights investigators said last month that they had concluded the Syrian Air Force carried out the attack on Khan Sheikhoun. Damascus insists the incident was faked and denies ever having used chemical weapons.