IS conflict 'has displaced more than 5m Iraqis'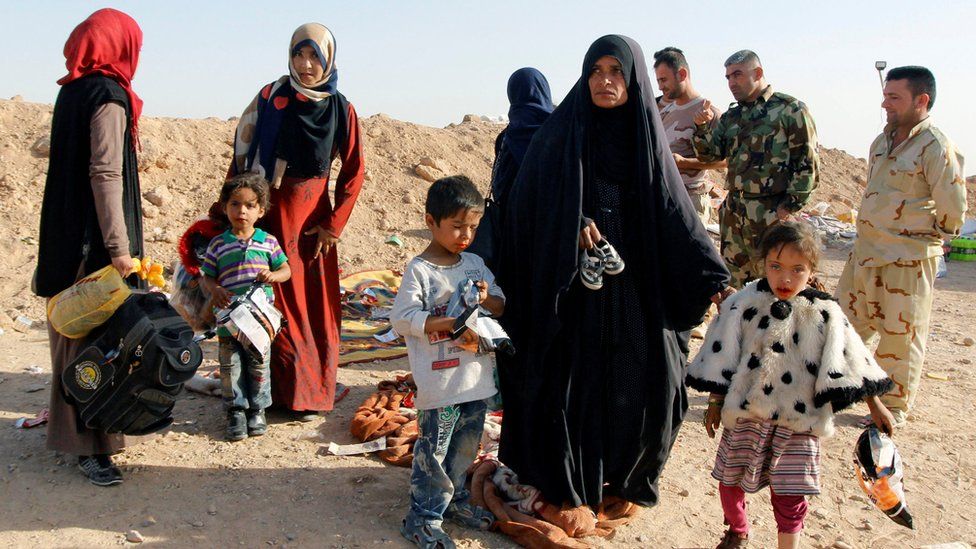 More than five million Iraqis have been displaced since so-called Islamic State (IS) took over large swathes of territory in 2014, the UN says.
Lise Grande, the UN humanitarian co-ordinator for Iraq, said 5.4 million civilians had fled their homes over the past three years.
The latest figures come in the wake of the recapture of the town of Hawija - IS last major urban stronghold in Iraq.
IS now hold only a stretch of territory on Iraq's border with Syria.
At their height, the jihadists controlled large parts of central and northern Iraq, including its second city, Mosul
In recent months, Iraqi security forces and allied militia have retaken much of the territory, including Mosul.
But clashes between government forces and IS militants have forced hundreds of thousands of civilians to flee.
Over half a million civilians fled from Mosul when it was overrun by the militants, and a further 800,000 fled during the months-long Iraqi operation to recapture it.
More recently, thousands of civilians fled the clashes as government forces recaptured Hawija.
Ms Grande said the UN was "deeply worried" for the wellbeing of those who have been displaced.
"Hundreds of thousands of people, including tens of thousands of very young children, have been exposed to extreme danger, stress, and trauma and will require years of specialised support and care," she said in a statement.