Gaza: Palestinian militants killed as Israel hits tunnel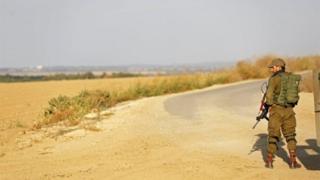 Seven Palestinian militants were killed and several others injured when Israel destroyed a tunnel running from Gaza into Israel, Palestinian officials say.
It is understood that five of those who died were members of Islamic Jihad. The Hamas military wing said two of its members were killed in a rescue effort.
The Israeli military said the "terror tunnel" was still under construction when it was "neutralised".
Israel is using sophisticated measures to thwart tunnels dug by militants.
It destroyed more than 30 tunnels during a 50-day war with militants in Gaza in the summer of 2014, and has found three since then.
During that conflict, fighters from Hamas used tunnels to infiltrate Israeli territory on four occasions, killing 12 soldiers.
The conflict left at least 2,251 Palestinians dead - including more than 1,462 civilians, according to the UN - and 11,231 injured. On the Israeli side, 67 soldiers and six civilians were killed, and up to 1,600 injured.
The Israeli military said the tunnel it destroyed on Monday ran from Khan Younis, in the southern Gaza Strip, into Israeli territory, about 2km (1.2 miles) from the community of Kissufim.
Prime Minister Benjamin Netanyahu said Israel had used "breakthrough technology" to find and destroy the tunnel. The army said the destruction took place on the Israeli side of the border with Gaza.
Israel is building a huge barrier along its perimeter with Gaza aimed at preventing militants tunnelling underneath it.
The 64km-long (40-mile) construction, which should be completed in 2019, will extend 40m (131ft) below ground and 6m above ground.
The latest tunnel was detected in an area where the barrier was not yet completed, the Israeli newspaper Haaretz reported.
An Islamic Jihad statement said the tunnels were "part of the policy of deterrence to defend the Palestinian people" and accused Israel of a "dangerous escalation", according to AFP news agency.
The incident comes just days before Hamas is due to hand over control of Gaza's border crossings with Israel to the Palestinian Authority as part of a reconciliation deal with the rival Fatah movement.
Update October 31 2017: This report has been updated to clarify the location of the Israeli action.