Yemen cholera: MSF closing most clinics as cases decline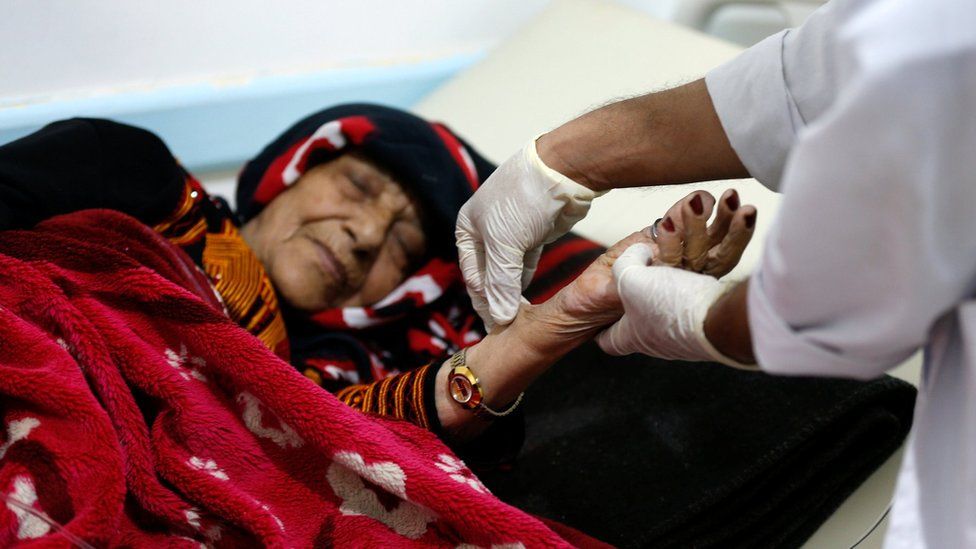 Medical charity Médecins Sans Frontières (MSF) is closing most of its cholera treatment centres in Yemen, saying the outbreak there has peaked.
More than 884,000 people are reported to have contracted the disease since April, and another 2,184 have died.
MSF said the outbreak was not over, but that cases had decreased significantly.
Only 567 new patients sought treatment at the medical charity's centres during the second week of October, down from 11,139 in the third week of June.
Yemen's health service has been unable to cope with the outbreak, with more than half of all medical facilities closed due to damage sustained during months of conflict between pro-government forces and Houthi rebels.
Hospitals and clinics have also faced crippling shortages of staff, medicines, fuel and equipment, while damage to infrastructure has also left 15.7 million people cut off from regular access to clean water and sanitation, increasing the likelihood of cholera spreading.
Since the beginning of the outbreak on 27 April, MSF has admitted more than 103,000 patients to 37 cholera treatment centres and oral rehydration points.
As a result, some MSF centres have closed or are in the process of closing.
"The cholera outbreak is not over but it is no longer our medical priority in Yemen," said Ghassan Abou Chaar, the MSF head of mission in Yemen.
"However, this should not eclipse the dire health situation of millions of Yemenis who are unable to access basic primary healthcare."
Mr Abou Chaar said it was now essential to implement a proper monitoring system to prevent a resurgence of the cholera outbreak.
Children under the age of five represented 26% of the cases and almost 17% of deaths, but people over the age of 60 accounted for 31% of deaths, it added.