IS 'executed' 741 civilians during Mosul battle - UN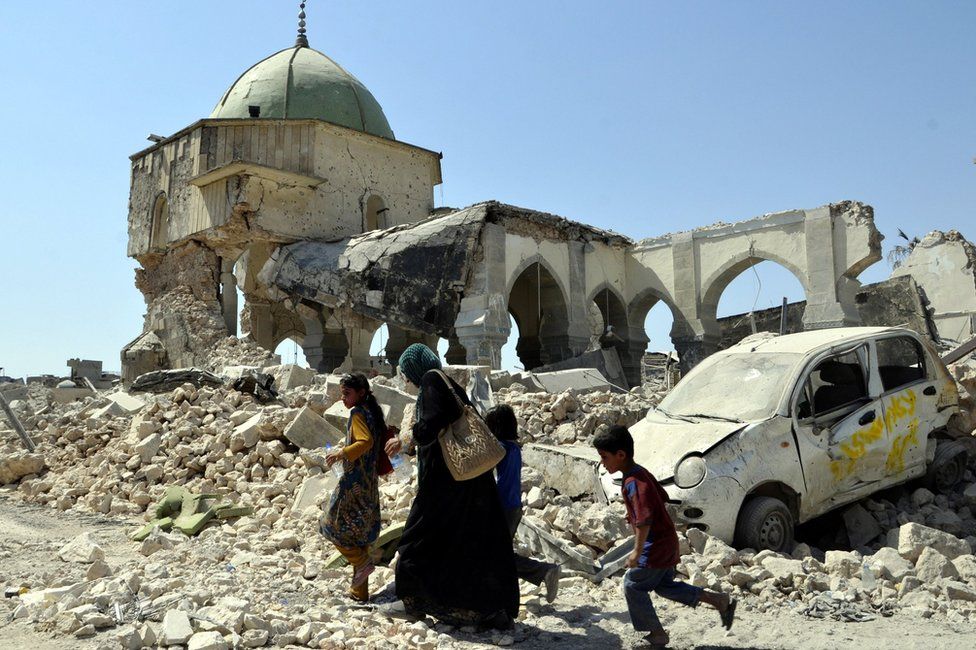 At least 741 civilians died in "execution-style killings" by Islamic State militants during the battle for the Iraqi city of Mosul, the UN says.
The jihadists are also alleged to have carried out mass abductions, used human shields, intentionally shelled homes, and targeted people trying to flee.
He also called for alleged violations by Iraqi forces to be investigated.
The UN says another 461 civilians died as a result of Iraqi military and US-led coalition air strikes during the most intensive phase of the battle, which lasted from November 2016 to July 2017.
It says that early in November 2016, in areas of Mosul under IS control, members of the group used loudspeakers to announce that residents of areas retaken by Iraqi security forces were considered as "legitimate targets" because of their "failure" to fight troops.
"This so-called 'fatwa' was accompanied by a sustained campaign of [IS] attacks on eastern Mosul that directly targeted civilians," the report adds. "Tactics included shelling, use of improvised explosive devices (IEDs) and shooting fleeing civilians."
"During the course of the operation to retake Mosul City thousands of civilians were subjected to shocking human rights abuses and clear violations of international humanitarian law," Mr Zeid said.
"The execution-style killing of civilians, the suffering inflicted on families, and the wanton destruction of property can never be tolerated in any armed conflict, and those responsible must answer for their heinous crimes."
The report calls on the international community to take action to ensure that those responsible for "international crimes" such as genocide, crimes against humanity and war crimes are held accountable, and urges Iraq to accept the jurisdiction of the International Criminal Court (ICC).
It notes that Iraqi courts and tribunals do not have jurisdiction over international crimes, and that prosecutors police investigators "lack capacity" to investigate, charge and try people in relation to them. In addition, it says, Iraqi law does not do enough to guarantee due process or fair trials.