ILO drops Qatar migrant workers complaint after reforms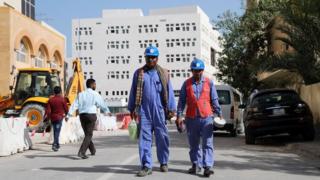 The International Labour Organization has closed a case against Qatar over its treatment of migrant workers, which had overshadowed preparations for the 2022 Fifa World Cup.
The UN agency said reforms agreed by the emirate meant some two million workers now enjoyed better protection.
They include setting a minimum wage and allowing workers to leave the country without their employers' permission.
Qatar welcomed the ILO's decision and vowed to continue improving conditions.
The International Trade Union Confederation (ITUC) hailed a "new era for workers' rights in the country" and urged neighbouring Saudi Arabia and the United Arab Emirates to follow suit.
In 2014, a complaint was lodged with the ILO accusing Qatar of failing to comply with its obligations as a signatory to conventions on forced labour and labour inspections.
Of particular concern was a 2009 sponsorship law that tied workers to their employers, which human rights activists said put them at risk of forced labour and other forms of exploitation and abuse.
Qatar has now committed to dismantle the so-called kafala system by ensuring employee contracts are lodged with a government authority to prevent contract substitution, and no longer allowing employers to stop workers leaving the country.
A minimum wage will be prescribed as a base rate covering all workers, ending the race-based system of wages, and wage arrears will be systematically settled.
Workers' committees will also be established at each workplace, with workers electing their own representatives.
The ILO said Qatar had committed to a technical co-operation programme, under which they would work together to strengthen national regulations and practices in line with international standards.
"The transformation of this complaint into a real commitment by the government of Qatar to make positive change on the ground for all workers is a very encouraging development. We celebrate this moment for Qatar and its two million migrant workers," said Luc Cortebeeck, chairperson of the ILO's governing body.
But Catelene Passchier, president of the Workers' Group of the ILO, told Reuters news agency: "While we welcome and support this agreement between the ILO and Qatar, we emphasise that nice words and good intentions are not sufficient. Implementation of these intentions in law and practice is critical."