Trump and Putin 'agree to defeat IS in Syria'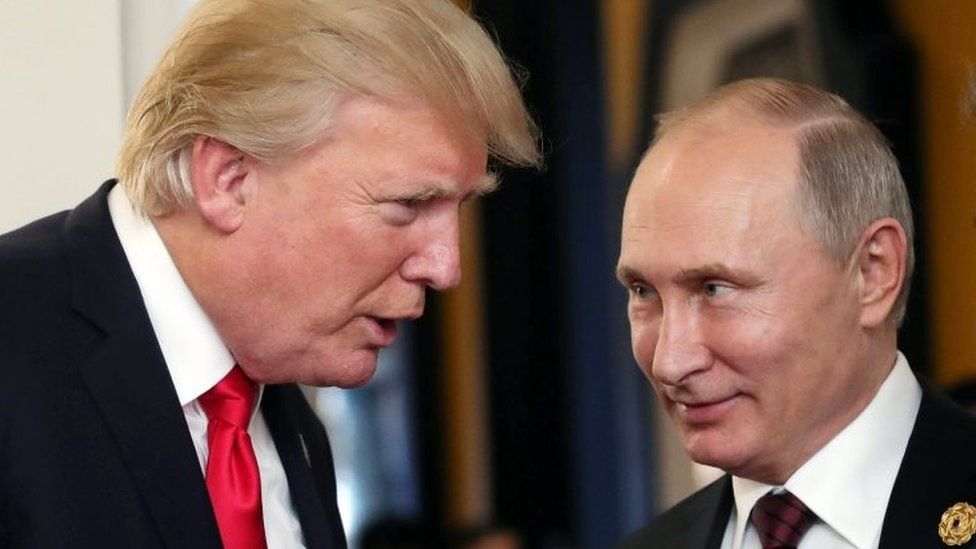 US President Donald Trump and Russian President Vladimir Putin have agreed to fight so-called Islamic State (IS) in Syria until its defeat.
A statement was prepared by experts after the leaders met briefly on the sidelines of an Asia-Pacific summit in Vietnam on Saturday.
In total, they had three encounters within 24 hours at the summit.
During one conversation, Mr Trump said Mr Putin had denied allegations of meddling in the US 2016 election.
Questions over Mr Trump's ties to Moscow have dogged his presidency, with key former aides under investigation for alleged collusion with Russia.
A formal bilateral meeting between the two presidents had been widely expected at the Asia-Pacific Economic Co-operation (Apec) summit in the port city of Da Nang, but Mr Putin later said scheduling issues had got in the way.
The pair met for the first time in July at the G20 summit in the German city of Hamburg.
A statement released by the Kremlin on Saturday said the leaders had "agreed that the conflict in Syria has no military solution".
They also confirmed their "determination to defeat Isis [another term for IS]" and called on all parties to take part in the Geneva peace process.
According to Russia's Interfax news agency, they promised to maintain existing Russian-US military channels of communication to prevent "serious incidents involving the forces of partners combating IS".
Russia has been the Syrian government's main ally in the six-year-long civil war. The US meanwhile has been backing Syrian Arab and Kurdish rebels on the ground, and since 2014 it has led a coalition carrying out air strikes against IS in Syria.
The jihadist group has been pushed out of its main strongholds in Syria in recent months by a combination of offensives involving the Syrian army and the Kurdish and Arab coalition.
Last month the US-backed Syrian Democratic Forces (SDF) declared they were in full control of Raqqa, a city that became the headquarters of IS's self-styled "caliphate" in 2014.
Mr Trump and President Putin posed side by side for a photo in custom-made blue shirts for the summit on Friday. They also shook hands as leaders sat down for talks on Saturday morning and later exchanged a few words before a "family photo" of attendees.
Russian Foreign Minister Sergei Lavrov also met his US counterpart Rex Tillerson earlier the same day, a source from the Russian delegation told Interfax news agency. The Kremlin said the two had co-ordinated the statement on Syria especially for the meeting in Da Nang.
Questions over whether the two leaders would formally meet or not were raised after conflicting statements from the White House and the Kremlin on Friday.