Iran earthquake: Khamenei criticises government's response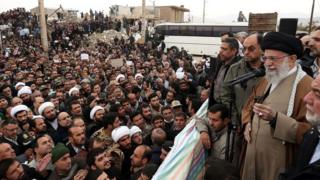 Iran's supreme leader has criticised the government's response to last week's earthquake during a visit to the scene of the disaster.
Ayatollah Ali Khamenei said many people involved in the rescue and relief operations had performed well, but that he was "not satisfied".
He said "officials from some sectors" needed to "double their efforts".
The 7.3-magnitude quake near the north-western border with Iraq killed at least 437 people and injured 10,000.
Another nine people were killed and 550 injured on the Iraqi side of the border.
At least 30,000 homes in Iran were damaged and several villages completely destroyed by the earthquake on 12 November, whose epicentre was about 120km (75 miles) north-west of the provincial city of Kermanshah.
In the immediate aftermath of the disaster, many survivors complained that the government had failed to deliver enough food, water and tents.
Iran's government said enough help had been sent to the area and declined offers of foreign assistance. But state media reported that many ordinary Iranians around the country were collecting blankets, clothes and other supplies for survivors.
On Monday, Ayatollah Khamenei visited one of hardest-hit towns, Sarpol-e Zahab.
He praised the rescue and relief operations, but insisted more could be done.
"Many people carried out their duties within the limits of their capacities; officials, too, performed well in some fields concerning this disaster. They worked hard and tried," state broadcaster IRINN showed the supreme leader as saying in a report.
"However, I am not satisfied. I believe that officials from some sectors should double their efforts.
"Also, the army in the towns and the IRGC [Islamic Revolution Guards Corps] in villages sped up assistance for those in the rubble. Their presence was effective and if they had not come [to help], our grief would have been much bigger and the death toll would have been higher."
President Hassan Rouhani has meanwhile ordered an investigation into why homes built by the government in Sarpol-e Zahab appeared to have suffered far worse damage than private homes.
"It's clear there has been corruption in construction contracts," he told a cabinet meeting on Wednesday. "Anyone responsible will be punished."