Teva Pharmaceuticals: Israeli drugmaker to cut 14,000 jobs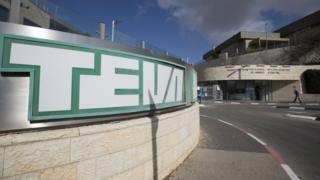 Israel's Teva Pharmaceutical Industries has announced a restructuring plan that will see it cut 14,000 jobs worldwide, or 25% of its total workforce.
Israel itself will feel a deep impact - the company plans to cut about half of the 6,400 employed in the country.
The world's largest generic medicines maker will also suspend dividend payouts to shareholders to help make cuts of $3bn (£2.3bn) within two years.
Teva is struggling with $35bn debt from an acquisition and rising competition.
Teva's new chief executive, Kare Schultz, said the savings were "crucial to restoring our financial security".
Last month, the company was forced to cut its 2017 profit forecast for the third time and reduce its dividend.
Its share price fell to its lowest level in 17 years.
Mr Schultz unveiled a simplified organisational structure and new executive management team at Teva two weeks ago, shortly after joining from the Danish pharmaceutical company Lundbeck.
On Thursday, he announced a two-year restructuring plan that he said would "reduce our cost base across our global business and become a more efficient and profitable company".
Teva aims to its current expenses of $16.1bn by reducing layers of management and simplifying business processes.
It plans to make changes to its generic drug production, including "adjusting" prices and stopping making some altogether.
It also aims to close or sell a significant number of manufacturing plants, research and development facilities, headquarters and other offices.
The majority of the 14,000 job cuts are expected to occur in 2018, with most of the affected employees being notified within the next 90 days.
"Today's announcement is about positioning Teva for a sustainable future which we will achieve with our talented people," Mr Schultz said. "We will ensure that we continue to provide high quality medicines to the many patients we serve every day, while adhering to the highest standards of GMP compliance."
Israel's main labour union has threatened a nationwide half-day strike by its 750,000 members in protest at the cuts.
"The entire economy - from the airport to the banks to the seaports to the municipalities to the government service to the health clinics - will stand until noon on Sunday in solidarity with Teva's employees," Avi Nissenkorn, chairman of Histadrut, told reporters on Wednesday.