Iran supplied Yemen rebels with ballistic missile - US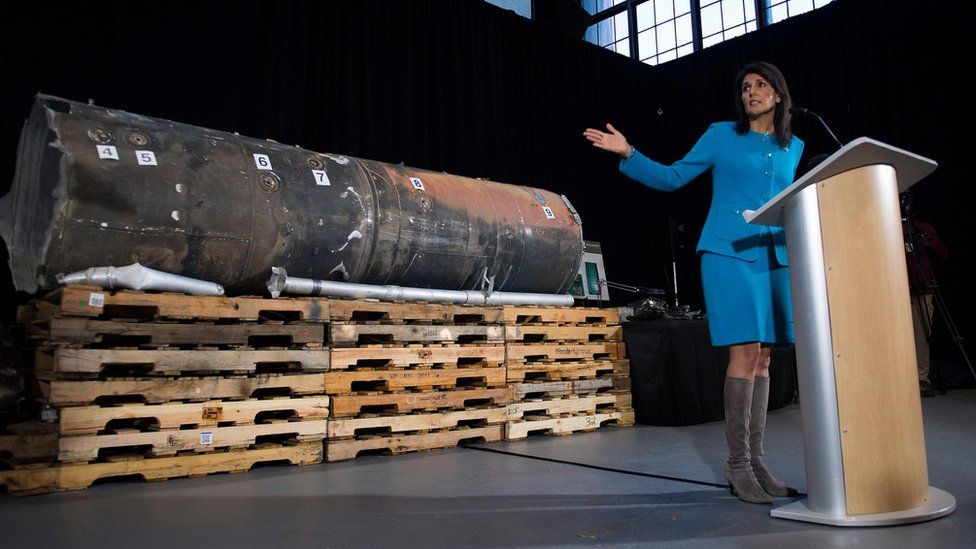 The US ambassador to the UN, Nikki Haley, has accused Iran of supplying Yemen's rebel Houthi movement with missiles to attack Saudi Arabia.
She showed reporters the remnants of a ballistic missile that came close to hitting Riyadh's airport last month.
It "might as well have had 'Made in Iran' stickers" on it, she said, adding that Iran was violating UN resolutions.
Iran denies arming the Houthi movement, which has fought a Saudi-led coalition backing Yemen's government since 2015.
Iran said the claims were "irresponsible, provocative and destructive".
But Mrs Haley said several technical details - the absence of stabiliser fins and a series of valves on the side - marked the missile as Iranian-made.
She added that it had the potential to kill hundreds of civilians, and that this highlighted the "undeniable fact that the Iranian regime's behaviour is growing worse".
"We must speak with one voice in exposing the regime for what it is - a threat to the peace and security of the whole world."
Mrs Haley said she was taking the unusual step of declassifying the information "in the spirit of transparency and international co-operation".
"International peace and security depends on us working together against Iranian aggression," she said.
Mrs Haley also said the US would build an international coalition to push back against Iran, which she said was "fanning the flames" of conflict in the Middle East. She said this would include diplomatic measures.
Iran's mission to the UN said the evidence was "fabricated" to serve a US agenda.
"These accusations seek also to cover up for the Saudi war crimes in Yemen, with US complicity," a statement by the mission's spokesman read.
A report by UN Secretary General António Guterres concludes that debris from the missile fired at Riyadh, and another shot down near Mecca in July, points to a common origin, according to AFP news agency.
But the report does not firmly conclude that the missiles came from Iran.
The US says Iranian ballistic missile tests conducted in the past year have violated a UN Security Council resolution that endorses the 2015 nuclear deal between Iran and world powers.
Resolution 2231 calls upon Iran not to "undertake any activity related to ballistic missiles designed to be capable of delivering nuclear weapons, including launches using such ballistic missile technology".
Iran says the missiles it has tested are not designed to carry nuclear warheads and insists its nuclear programme is entirely peaceful.
Yemen's humanitarian crisis
Iran's foreign ministry has previously said November's missile launch was "an independent action" by the Houthis in response to Saudi-led coalition "aggression".
The coalition tightened its blockade of Yemen in response to November's missile attack, saying it wanted to halt the smuggling of weapons. But the UN warned that the restrictions could trigger "the largest famine the world has seen for many decades".
Although the coalition later eased its restrictions, allowing humanitarian aid to be delivered to Houthi-controlled ports and airports, commercial shipments of food and fuel are still blocked, causing severe shortages.
More than 8,670 people have been killed and 49,960 injured since the coalition intervened in Yemen's war, according to the UN. The fighting and the coalition blockade has also left 20.7 million people in need of humanitarian aid, created the world's largest food security emergency, and led to a cholera outbreak that is thought to have killed 2,219 people since April.
Separately, an arms monitoring group reported that some European-made weapons bought by the US and Saudi Arabia had ended up in the hands of the Islamic State group (IS).
At least 12 cases were documented, including one of a guided anti-tank missile.
Conflict Armament Research (CAR) said both countries delivered the weapons to Syrian rebels "without authorisation" and without informing the eastern European countries - Bulgaria and Romania included - where the arms had originally come from.
More than half the weapons used by IS were Chinese- and Russian-made, the report said, and 3% were Nato-calibre - IS took them from Iraqi forces in 2014.