Syria war: Air strikes on rebel-held Idlib village kill 19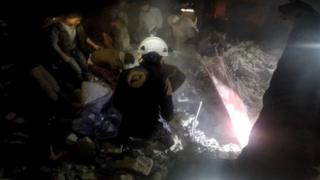 At least 19 people are reported to have been killed in air strikes on a rebel-held village in northwestern Syria.
The UK-based Syrian Observatory for Human Rights said a number of homes were hit overnight in Maarshurin, in the province of Idlib.
Thirteen of the dead were members of the same family, it added.
Activists believe the raid was carried out by Russian or Syrian government warplanes. Russia said its jets were not flying in the area at the time.
Idlib has been designated a "de-escalation zone" by Russia and Iran, the government's main allies, along with Turkey, which supports the opposition.
But government forces last week launched an offensive to try to retake the province, reportedly attacking rebel-held towns in southern Idlib and the neighbouring Hama countryside.
The Syrian Observatory for Human Rights, which monitors the civil war through a network of sources, said the air raids on Maarshurin took place after midnight.
The monitoring group said seven children were among the 19 people killed and that more than 25 people were wounded, six of whom were in critical condition.
The Syria Civil Defence, whose rescue workers are known as the White Helmets, said it was still searching for other victims in the rubble of the destroyed houses.
It believed they were struck by missiles fired by Russian warplanes.
However, the Russian defence ministry later issued a statement saying its planes "did not carry out flights in that area", according to the RIA news agency.
There was no immediate comment from the Syrian military.
AFP news agency reports that Maarshurin is jointly controlled by Hayat Tahrir al-Sham, a jihadist alliance dominated by al-Qaeda's former affiliate in Syria, which is not covered by the deal that established the Idlib de-escalation zone.
On Sunday, the nearby town of Khan Sheikhoun was hit by what the Syria Civil Defence called "incendiary and vacuum rockets". Ten civilians, all of them women and children, were killed, it said.