Yemen cholera cases reach one million - ICRC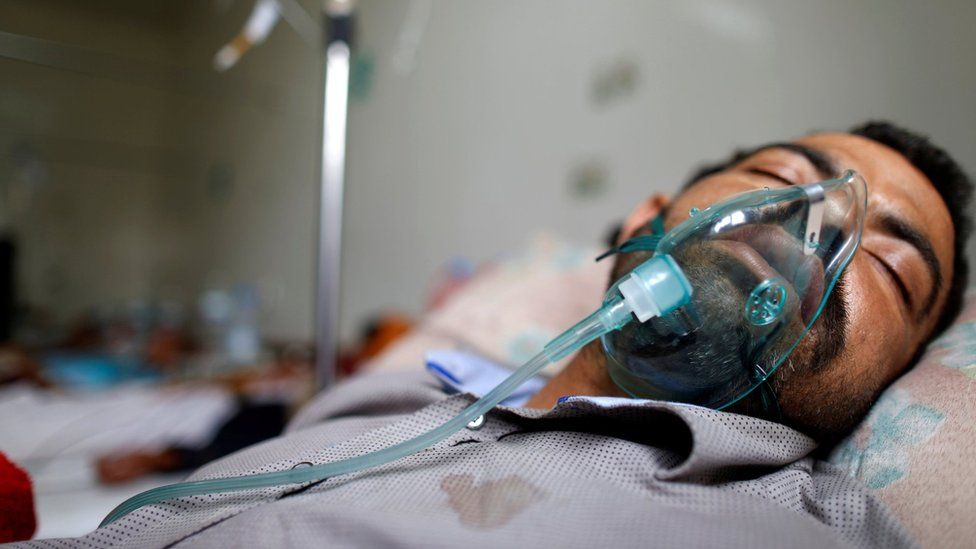 The number of suspected cholera cases in Yemen has reached one million, the International Committee of the Red Cross (ICRC) says.
At least 2,226 people are believed to have died of the disease since April, although the number of new cases has declined for 14 consecutive weeks.
The ICRC said the outbreak was "amplifying the suffering of a country caught up in a brutal war".
More than 80% of Yemenis lack food, fuel, water and access to healthcare.
The war between forces loyal to President Abdrabbuh Mansour Hadi, who is backed by a Saudi-led coalition, and the rebel Houthi movement has killed more than 8,670 people since March 2015.
Cholera is an acute diarrhoeal infection caused by ingestion of food or water contaminated with the bacterium Vibrio cholera. In severe cases, the disease can kill within hours if left untreated.
The outbreak in Yemen peaked at the end of June, when more than 50,000 suspected cases were reported in one week across 22 out of 23 provinces. Since then, it has steadily declined.
The blockade was tightened after the Houthis fired a ballistic missile at the Saudi capital, Riyadh, in November.
The coalition said it wanted to halt the smuggling of weapons to the rebels by Iran - an accusation that officials in Tehran denied - but the UN said the restrictions could trigger "the largest famine the world has seen for many decades".
Yemen's health service has been unable to cope with the cholera outbreak, with more than half of all medical facilities closed due to damage sustained during the conflict.
Hospitals have also faced crippling shortages of medicines, fuel and equipment because of the coalition blockade.
Damage to infrastructure and a lack of fuel for pumping stations has also left 16 million people cut off from regular access to clean water and sanitation, increasing the likelihood of cholera spreading.
Malnourished children are also at increased risk of dying from infectious diseases. In Yemen, some 1.8 million children are acutely malnourished, including 400,000 under the age of five with severe acute malnutrition.