Attack fears prompted UAE-Tunisia female passenger row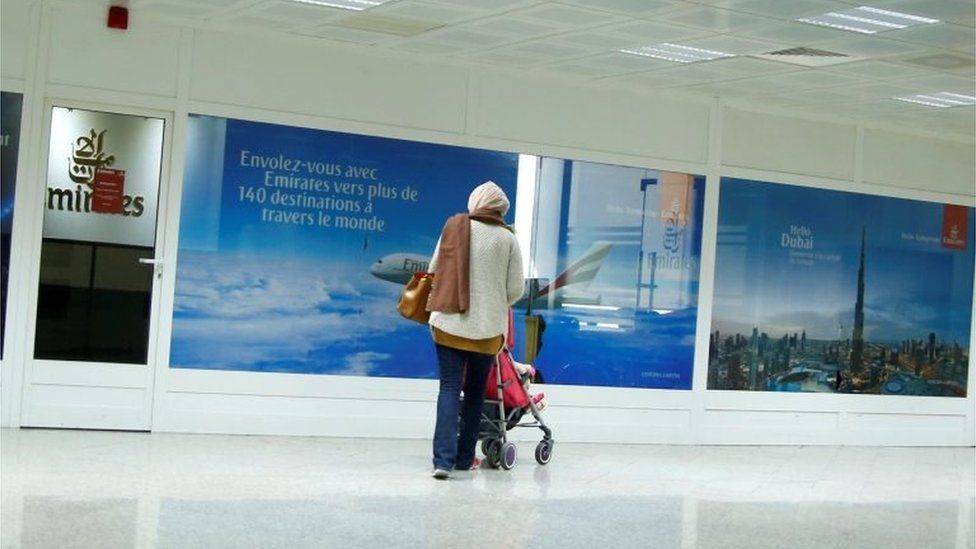 A row between Tunisia and the United Arab Emirates was triggered by fears of terrorist attacks, Tunisia says.
Since Friday, Tunisian women have reported being banned from Emirates flights to the UAE.
In response, Tunisia suspended Emirates airlines flights from landing in Tunis.
A Tunisian official said UAE authorities had received "serious security information about the possibility of a terrorist attack" by female Tunisian passport holders.
A spokeswoman for the Tunisian presidency, Saida Garrach, said that UAE carrier Emirates had received "clear instructions" to deny Tunisian women access to its planes.
She said that the information indicated that, with jihadists returning from Syria and Iraq, there was "a possibility of a terrorist attack involving either Tunisian women or women carrying a Tunisian passport".
She added that while Tunisia understood the concerns of the UAE, it could not "accept the way Tunisian women have been treated".
President Beji Caid Essebsi also said that the rights of Tunisian women could not to be violated "whatever the justification".
The UAE had said on Sunday that "security information necessitated taking specific procedures" without mentioning a possible terrorist attack.
But female travellers from Tunisia said they had been given no reason for not being allowed to board Emirates Airline flights to the UAE.
The Tunisian government said their officials had to intervene on a number of occasions to help female passengers stranded in its capital Tunis and in Abu Dhabi.
Amid growing anger, Tunisia suspended Emirates airlines flights to Tunis.
Tunisia's transport ministry said the ban would remain in force until an "appropriate solution" had been found.