Israel parliament passes law restricting police powers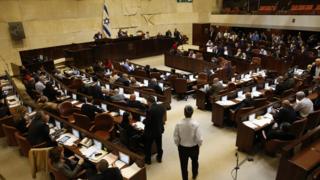 Israel's parliament has voted to approve controversial legislation restricting police powers.
The law prevents investigators from recommending whether the attorney general should charge suspects in some of the most high-profile cases.
Prime Minister Benjamin Netanyahu said it would protect innocent people.
But critics said the legislation was an attempt to reduce scrutiny of corruption investigations into Mr Netanyahu himself.
One opposition party said it would challenge the law at the Supreme Court.
The Police Recommendations Bill was passed by 59 votes to 54 in the Knesset early on Thursday, after two days of filibusters by opposition lawmakers.
Mr Netanyahu defended the bill, saying it was "intended to prevent publication of police recommendations which would leave a cloud over innocent people - something that happens every day".
He said that in 60% of the cases in question, prosecutors decided not to press charges.
Mr Netanyahu is a suspect in two corruption investigations. One concerns alleged meddling in the media industry; the other gifts he allegedly received from wealthy businessmen.
He has repeatedly denied any wrongdoing, saying he is the victim of a politically motivated witch hunt.
Following criticism, this law will not apply to criminal investigations that began before it was passed.
However, the BBC's Yolande Knell in Jerusalem says this has not satisfied Mr Netanyahu's opponents. They say they do not know what criminal inquiries might be conducted in future.